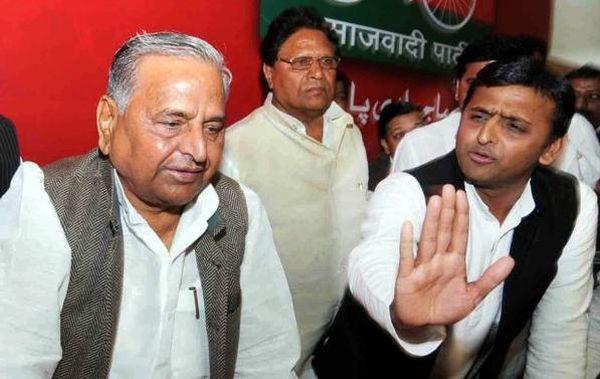 Mulayam Singh Yadav and Akhilesh on Thursday continued attempts to claim ownership of Samajwadi Party even as further efforts were being made for a rapproachement between the warring factions led by the father and the son.
Akhilesh, the Chief Minister of Uttar Pradesh who was on Sunday made 'President' of SP by his faction in place of Mulayam, appointed heads of seven more district party units, demonstrating his strengthening grip on the party.
State SP president Naresh Uttam appointed district presidents in Mainpuri, Moradabad, Fatehpur, Etawah, Farukhabad, Hardoi and Firozabad "on directives of national president Akhilesh Yadav", said a press release issued by the chief minister's camp.
The existing presidents of these district units were also sacked with immediate effect to pave the way for new faces.
On Wednesday, Akhilesh had named party unit chiefs of four districts -- Deoria, Kushinagar, Azamgarh and Mirzapur.
Presidents in all these districts were dumped by Shivpal Yadav, who is state president of another faction of SP backed by his elder brother Mulayam Singh Yadav.
This came even as the rival factions raced against time to garner support of party MPs, MLAs and delegates to prove majority before the Election Commission to claim 'Samajwadi Party' name and 'cycle' symbol.
Mulayam and Shivpal rushed to the national capital on Thursday morning to furnish details of support he enjoys in the embattled party to the poll panel.
But Akhilesh stayed put at his official residence in Lucknow, collecting signed affidavits to back his claim of majority support. There was a claim that he had secured signed affidavits of over 200 MLAs and MLCs.
SP MP Naresh Agarwal, who is close to Akhilesh, claimed a majority of the party MLAs, MLCs and MPs were with him. He was confident that EC would allot the 'cycle' symbol to the Akhilesh camp.
In Delhi, Mulayam held a meeting his close confidante Amar Singh amid a talk that they may approach the Election Commission with letters of support from over 50 per cent of the legislators and office bearers.
Mulayam's close aides said he had sought time from the vommission to put forth his stand but the poll panel firmly denied that any appointment had been sought.
Hours later, Mulayam returned to Lucknow along with Shivpal, without approaching the commission.
Sources in the poll watchdog said they have not received any document from the SP founder.
"In fact, his side is yet to submit the letter removing Ram Gopal Yadav as National General Secretary," an official claimed.
After Mulayam's return to Lucknow in the evening, SP leader Azam Khan, who has been working for a patch-up, met Akhilesh for the second time in the day.
Akhilesh told his supporters, who met him at his 5, Kalidas Marg residence, to gear up for the elections and ensure a landslide for the party.
Cabinet minister Ravidas Malhotra, who was present at a meeting Akhilesh had with MPs, MLAs and MLCs, quoted him as saying, "Netaji is my father. I have asked him (Mulayam) to give me authority for three months. After returning to power, he may decide whatever he wants."
Another minister Shanklal Manjhi, who too attended the meeting, said, "SP is incomplete without 'Netaji' but Akhilesh is its face. Without him party is incomplete."
On the other hand, sources in the Mulayam camp said the party supremo was armed with signed affidavits of MLAs, MLCs and MPs which he will furnish to the EC but their number was not given.
Interestingly, some old socialists still expect a patch-up so that SP could go to polls a united house.
The Election Commission has initiated the process for the two warring factions of the Samajwadi Party to prove their majority for getting the party name and symbol. In the 403-member UP Assembly, SP has 229 MLAs.
The EC has asked both factions to show strength of MLAs, MPs and MLCs supporting them through signed affidavits by January 9.
Meanwhile, Quami Ekta Dal MLA Sigbatullah Ansari met Akhilesh, saying he had been invited by him.
Merger of QED, headed by gangster-turned-politician Mukhtar Ansari, with SP was the bone of contention between Akhilesh and Mulayam as the chief minister was strongly opposed to it.