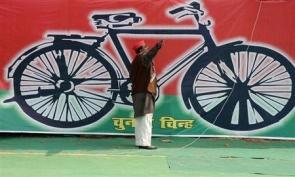 The ruling Samajwadi Party in Uttar Pradesh on Wednesday retained the Handia assembly seat by defeating its Bahujan Samaj Party rival by a comprehensive margin of more than 26,000 votes.
Voting was held on June 2 for the by-election in which Prashant Kumar Singh of the SP secured 81,655 votes while Pankaj Tripathi of the BSP got 54,838 to finish a distant second.
Significantly, 26-year-old Singh is the son of Mahesh Narayan Singh whose death in February this year had necessitated the by-election. On the other hand, Tripathi is the nephew of Rakesh Dhar Tripathi, a cabinet minister in the previous Mayawati government in the state, who has represented Handia a number of times and on tickets of various parties.
In the last assembly elections, the BSP stood third, while Tripathi, who had at that time parted ways with the party and fought as a candidate of Pragatisheel Manav Samaj Party, a lesser known outfit, lost to Mahesh Narayan Singh by a humiliating margin of 45,000 votes. He has, however, mended ways with Mayawati, who promised him a Lok Sabha ticket.
Meanwhile, both the Congress and the Bharatiya Janata Party continued with their dismal show in the assembly constituency where they secured 3,809 and 2,550 votes respectively and ended up losing deposits.
The two national parties' combined vote share in Handia in last year's assembly polls was less than five per cent.