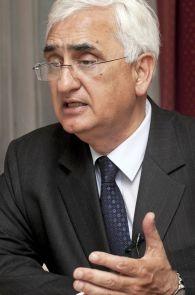 With the Central Information Commission holding that political parties are answerable to citizens under the Right to Information, Union Minister Salman Khurshid said on Tuesday it is important to keep a practical control of RTI objectives as they cannot be allowed to "run riot". He said the RTI is still an evolving process in the country and its reach and ambit is being tested.
"There is a logic of RTI and this is reflected in its orders. The logic will be tested at various levels including by the courts. I think we should be overtly sensitive to the evolving nature of RTI but at the same time I think it is important to keep a practical control of RTI objectives because it cannot be allowed to run riot," the external affairs minister said.
Noting that the purpose of the RTI Act is to make public servants accountable to the world and to ordinary citizens, Khurshid said this is an "enduring process". However, he refrained from making a direct comment on whether the act should be applicable to political parties.
Minister of State in Prime Minister's Office V Narayansamy said he had still not read the CIC order but his personal opinion is that political parties do not come under the RTI.
"Political parties, according to me, are not government organisations. These are private organisations. I will study the judgment and then be able to comment on it," he said.
The CIC held on Monday that the parties are public authorities and answerable to citizens under RTI Act.
The CIC, a quasi-judicial body, has said that six national parties – the Congress, Bharatiya Janata Party, Nationalist Congress Party, Communist Party of India-Marxist, CPI and Bahujan Samaj Party have been substantially funded indirectly by the central government and they have the character of public authority under the RTI Act as they perform public functions. After the order of the full bench of the CIC, the parties will be answerable to the citizens regarding their source of funding, how they spend money and choice of candidates for elections, among other issues.