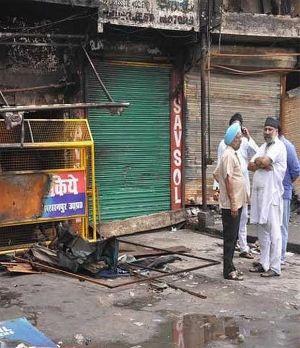 District Magistrate of Saharanpur, which recently witnessed communal clashes claiming 3 lives, was on Monday night transferred in a major reshuffle of Uttar Pradesh bureaucracy.
Joint Magistrates of Moradabad and Meerut, which too were hit by communal tension recently, were also shifted, a Home department official said.
DM Saharanpur Sandhya Tiwari has been shifted as Special Secretary, Food and Civil Supplies and her place went to DM Faizabad Indraveer Singh Yadav.
Joint Magistrate Moradabad, Mahendra Bahadur Singh, has been shifted to Sitapur, while his counterpart in Meerut Navneet Singh Chahal, was posted as Chief Development Officer of Chandauli.
The alleged gang-rape of a woman and religious conversion had triggered communal tension in Meerut while a row over use of public address system at a place of worship in Moradabad led to group clashes recently.
The reshuffle involved 21 IAS and eight IPS officers, including district magistrates and police chiefs.
Earlier in the day, Tewari had said a report on damage to properties during Saharanpur communal riots would be submitted to the UP government on August 20.
"Meerut Division Commissioner Bhupendra Singh has reached Saharanpur to do a three-day probe into the damage to properties during the communal riots," she had said.
In other transfers, Secretary, Secretariat Administration, Arvind Narain Mishra has been given additional charge of higher education.
Principal Secretary, Social Welfare, Sunil Kumar, has been relieved from the additional charge of Backward Welfare Department which has now been given to Rajnish Gupta, who was on the wait list.
Managing Director of Uttar Pradesh State Industrial Development Corporation, Manoj Singh, has been given the additional charge of Managing Director of Small Industries Corporation.
Brij Kishore Singh, who was on the wait list, has been posted as Secretary, Civil Defence and Political Pension.
DM Mirzapur Anil Dhingra has been shifted to Faizabad.
DM Hapur Rajesh Kumar Singh has been shifted to Mirzapur while his place will be taken by Ajay Yadav, who was on the wait list.
Joint Magistrate (Ghazipur) Vishak G has been transferred as CDO of Varanasi, while Joint Magistrate (Aligarh) Pulkit Khare has been posted as CDO in the same district.
Joint Magistrate of Ghaziabad, Kunal Silku, has been posted as CDO of Hapur, while Lucknow CDO Yogesh Kumar and Chandauli CDO Sujit Kumar have been put on the wait list.
CDO of Faizabad, Akhand Pratap Singh, has been put on the wait list while Joint Magistrate of Agra, Arvind Malappa Bangari has been posted in his place.
DM, Jhansi, Lal Bihari has been put on the wait list while his position will be taken up by Director of Panchayati Raj, Anurag Yadav.
Among IPS officers SP (Railway), Lucknow, Ram Lal Verma has been posted as SP Bahraich in place of Luv Kumar who will take over as Commandant 35 PAC.
SP state crime record bureau Ram Kishore and SP Mahoba Bablu Kumar have swapped places.
Commandant 35 PAC Umesh Kumar Srivastava has been posted as SP Bijnor replacing Sunil Kumar Saxena who will take over as SP (Railway), Lucknow.
Commandant 37 PAC, Kanpur, Kirit Kumar H Rathore has been posted as SP Kaushambi in place of Ram Pratap Singh who has been sent to the Traffic Directorate as Deputy Director.
Image: Shops damaged in the violence remain shut even in Saharanpur Photographs: Sandeep Pal