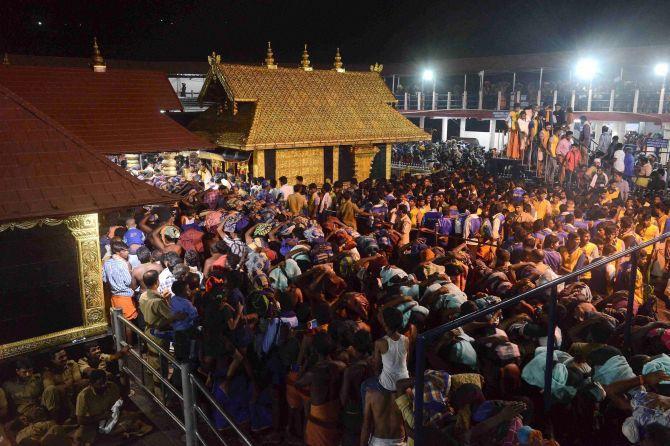 IMAGE: Devotees gather at the Sabarimala temple in Kerala on Sunday. Photographs: PTI Photo

As many as 31 persons were injured, two of them seriously, in the stampede at the Lord Ayyappa temple in Sabarimala, Kerala, Devaswom Minister Kadakampally Surendran said on Monday and maintained that there was no lapse on the part of police.
"Eight of the injured have been admitted to Kottayam medical college hospital, three in Pathanamthitta Government hospital, two in Pamba and 18 at Sannidhanam hospital," he told reporters.
An action plan would also be formulated to ensure that such incidents do not recur, he said, adding there was no lapse on the part of police.
"There was sufficient police at Sannidhanam. There were about 700 policemen on duty," he said.
The minister said that barricades would be strengthened in the coming three days when the shrine will remain closed.
A joint inspection with police, Devaswom officials and the minister was held at the mishap site on Monday morning.
The temple had witnessed heavy rush on Sunday, the penultimate day of the 41-day pilgrimage season, which concludes today with 'Mandala Pooja'.
A rope barricade gave way at Malaikappuram following which some of them fell down causing injuries to the pilgrims, who were mostly from Andhra Pradesh, TN and Telangana.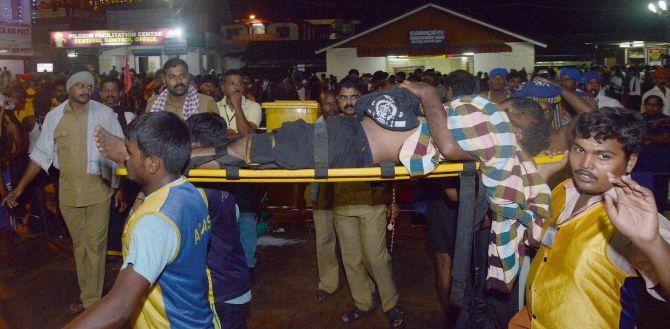 IMAGE: An injured devotee being taken to the hospital in Pamba.

One of the injured is from Kerala.
Meanwhile, Director General of Police Loknath Behara said a huge tragedy was averted at Sabarimala due to police intervention and denied reports that the stampede was due to ineffective police presence on Sunday, despite a heavy rush of pilgrims.
"Stampede was not due to the lapse of police," he said.
Behara said that Inspector General D Sreejit, in charge of Sabarimala security, has been asked to file a report on the stampede on Monday itself.
"I have asked Sreejit to immediately enquire and download the CCTV visuals and file a report today itself," Behara said.
Sreejit said there were nine policemen at the spot and it was due to their presence that a calamity was averted.
"It was due to their intervention that a big mishap was averted," Sreejit said.
He said within 100 metres, there were 70 policemen, including the National Disaster Response Force.
Following the incident, security has been strengthened and entry of pilgrims is being restricted.