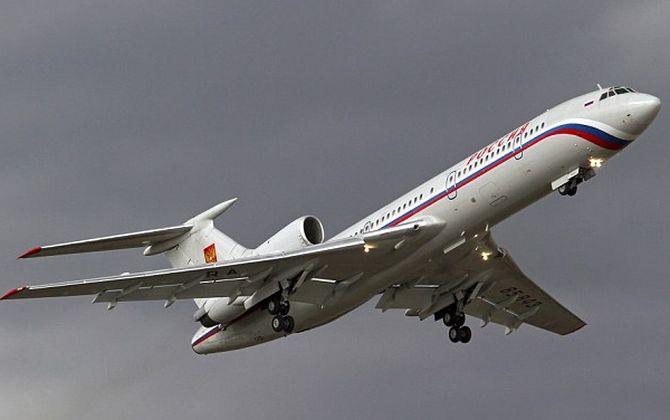 A Syrian-bound Russian military plane carrying 92 people including Red Army Choir members has crashed in the Black Sea moments after taking off from Sochi.
The Tu-154 model plane, which belonged to the Russian defence ministry, crashed shortly after take-off from the southern city of Adler at 5.40 am (local time). There was no indication anyone survived.
One body has been recovered six kilometres off the coast of the resort city of Sochi, as a frantic search operation continued to find the missing.
Viktor Ozerov, head of the defense affairs committee at the upper house of Russian parliament, said he 'totally excluded' terrorism as a possible cause of the crash because the plane was operated by the military.
A security source indicated the plane had crashed because of a technical malfunction or a pilot error.
The plane had been on a routine flight to Russia's Hmeimim airbase in western Syria, which has been used to launch air strikes in Moscow's military campaign supporting its ally President Bashar al-Assad in the country's devastating civil war.
A spokesman for the defence ministry said: "Fragments of the Tu-154 plane of the Russian defence ministry were found 1.5 kilometres from the Black Sea coast of the city of Sochi at a depth of 50 to 70 metres."
"Four ships, four helicopters, one aircraft and drones are involved in the search and rescue operation. Six ships and vessels of the Black Sea fleet, remotely operated submersibles and 63 divers have been additionally sent to the crash area. Fifty more divers from other fleets will be brought to the crash area in about an hour," the ministry added.
Deputy Defence Minister Pavel Popov has flown to Adler to look into the circumstances surrounding the crash.
Russian Prime Minister Dmitry Medvedev said: "This awful tragedy has claimed the lives of people who were energetic and had plans. Among those killed are journalists, servicemen and musicians of the renowned Alexandrov ensemble. They flew to Syria with a very benevolent and peaceful mission.
"The circumstances of the incident will be thoroughly investigated, and everyone affected by this tragedy will receive the necessary assistance."
Image used is for representational purposes only.