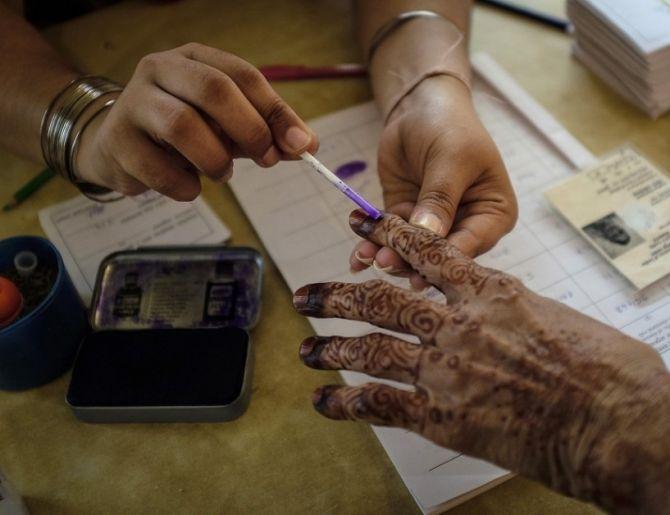 In a major development in poll-bound Nagaland, all parties including the ruling Naga People's Front on Monday decided not to contest the February 27 elections, agreeing to the demand of tribal bodies and civil society groups to resolve the Naga political problem first.
The decision came at a meeting called by the Core Committee of Nagaland Tribal Organisations and Civil Societies (CCNTOCS), and attended by representatives of 11 parties and seven Naga Nationalist Political Groups (NNPGs).
"It is the unanimous view of the Naga people that the political solution or Naga peace accord is more important than elections and therefore, it has become imperative that the elections to the legislative assembly of Nagaland be deferred for peace and tranquillity," read a joint declaration signed by the parties.
The parties are -- Naga People's Front, Congress, Bharatiya Janata Party, Nationalist Democratic Peoples' Party, Nagaland Congress, United Nagaland Democratic Party, Aam Admi Party, Nationalist Congress Party, Lok Janshakti Party, Janata Dal-United and National People's Party.
The National Socialist Council of Nagaland-Isak Muivah and the working committee of six NNPGs were in attendance at the meeting.
A copy of the joint declaration was given to the media by the convenor of the CCNTOCS, Theja Therie, at a press briefing in Kohima.
'We firmly believe it is expedient for all parties, both national and regional, to come together in the greater interest of the state in solidarity with the call for 'Solution before Election' and defer the elections to the 13th Nagaland Legislative Assembly.
'And therefore, we, on behalf of all the political parties and the intending candidates, have in compliance with the wishes of the people decided not to go ahead with the issuance of party tickets or filing of nominations,' it read.
The parties 'respected the sentiments of people and decided to give wholehearted support to the call for 'Solution Before Election',' Therie said.
"If they stand by it and don't allot tickets, there will be no candidate. We have full confidence that no independent candidate will defy the people's popular slogan," he said.
The Naga people would be compelled to take to the streets if the Election Commission went ahead and issued the official notification on January 31, he warned.
The Core Committee has given a call for a total bandh on February 1, the day on which filing of nomination begins.
The Naga Hoho, an apex Naga tribal body, had earlier this month sought Prime Minister Narendra Modi's help in postponing the elections, saying the vexed issue should be resolved first.
Civil society groups in Nagaland have also launched a campaign 'Solution before Election'.