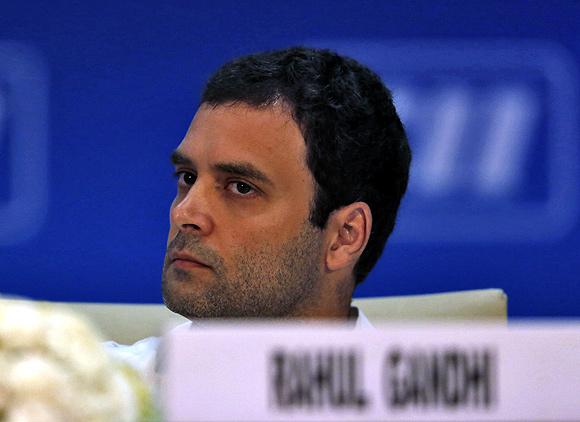 Irked by Congress Vice President Rahul Gandhi's remark accusing the "RSS people" of having killed Mahatma Gandhi, the Sangh has decided to initiate legal action against him and lodge a complaint with the Election Commission.
"Legal action will be initiated against Rahul Gandhi for his irresponsible utterances linking RSS with Gandhi's murder. Complaint will be filed with EC too," Rashtriya Swayamsevak Sangh spokesperson Ram Madhav said on social networking site Twitter.
The Sangh has taken umbrage to the statement made by Gandhi at a rally in Maharashtra on Thursday.
While addressing the rally in Thane district, the Congress VP had alleged that it was "RSS people" who had killed Mahatma Gandhi.
"The RSS people killed Gandhiji and today their people (the Bharatiya Janata Party) talk of him...They opposed Sardar Patel and Gandhiji," Rahul had said in his speech.

Image: Congress Vice President Rahul Gandhi