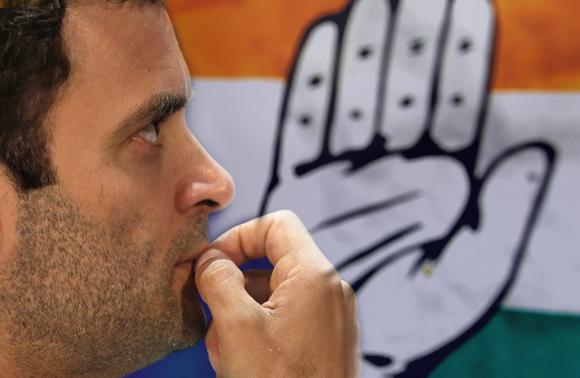 A controversy broke out over Rahul Gandhi's charge on Monday that he was stopped from entering a Vaishanvite monastery in Barpeta by Rashtriya Swayamsevak Sangh workers during his recent visit to Assam, an allegation denied by the temple chief.
As the claim by the Congress Vice President triggered a political slugfest, the Bharatiya Janata Party alleged it was "fabricated", saying the RSS does not run temples and without naming anyone said "wrong messages" are being spread to "mislead" people.
Rahul claimed that what happened to him at the temple during his visit to Assam last week was BJP's style of politics which was "unacceptable".
"When I went to Assam I wanted to visit a temple in Barpeta district. And at the temple the RSS people there stopped me from entering the temple. This is the way the BJP operates," Rahul told reporters outside Parliament.
"They made the women there stand in front of me and told me that I cannot enter the temple," he said, and asked, "Who are they to stop me?"
Rahul, who was in Barpeta last Friday, said he visited the monastery later in the evening when the suspected RSS workers had left the place.
The head of Barpeta Satra, the Vaishnavite monastery, dimissed Rahul's claim, saying there was no RSS worker at the religious place.
Even as Barpeta Satra Bura Satriya (head) Bakhista Deba Sarma termed the allegation as "unfortunate", Chief Minister Tarun Gogoi stuck to his stand.
"There is no RSS agent in the Satra. It is a religious place and only religious activities are undertaken here. Where does politics come into the Satra"?," Sarma said while speaking to reporters in Barpeta.
"The women here are simple people and they come twice a day for participating in the community prayers in the Satra. They were only waiting at the Satra gate to see Rahul Gandhi. They do not know anything about politics," Sarma said.
"Connecting a centre of religion and culture like the Satra with politics by Gogoi who is the chief minister is most unfortunate. In future, politics and the Satra should not be interlinked," he said.
Gogoi maintained that the Satra had told him that Rahul Gandhi will not be allowed to enter the monastery.
"The Satra head had told me that Rahul Gandhi will not be allowed to enter the Satra. The RSS instigated it.
"Never heard anyone being prevented from entering the Satra before. I ask them even today why they prevented (Rahul from entering). Everyone has the right to enter. If RSS is not there, then why not question them why we were not allowed in," the chief minister told reporters in Guwahati.
"There were 40 to 50 women preventing our entry."
BJP termed as "fabricated" Rahul's charge alleging he had become a "lying machine" and was resorting to such non-issues to disrupt Parliament.
"Earlier somebody (Selja) claimed that she was stopped from entering a temple in Dwarka and she was exposed in Parliament. What Gandhi says is fabricated and a lie," BJP leader and Union Minister Mukhtar Abbas Naqvi told reporters in Delhi.
Another BJP leader and Union Minister M Venkaiah Naidu without naming anyone said "spreading" wrong messages and to mislead people has become the habit. "Do RSS run the temples?," he asked.