The biggest procurement green-lighted was the Rs 217 billion purchase of 111 naval utility helicopters.
Ajai Shukla reports.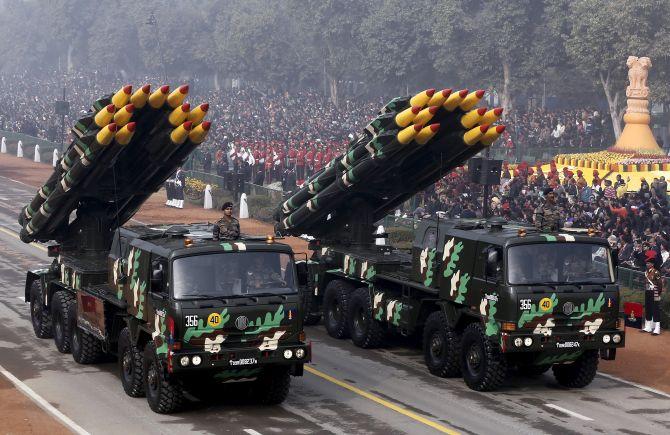 The defence ministry's apex procurement body, the Defence Acquisition Council, has accorded approval for acquisitions worth about Rs 460 billion, which include missiles and two types of helicopters for the navy, and artillery guns for the army.
The biggest procurement green-lighted on Saturday, August 25, was the Rs 217 billion purchase of 111 naval utility helicopters, which will be built by a competitively chosen Indian private sector company.
'This is the first project under the MoD's prestigious Strategic Partnership model, which aims at providing a significant fillip to the government's 'Make in India' programme, the ministry said in a statement.
'The SP model envisages indigenous manufacturing of major defence platforms by an Indian SP, who will collaborate with foreign OEMs (original equipment manufacturers), acquire niche technologies and set up production facilities in the country,' the ministry added.
The search for a suitable foreign OEM began more than a year ago.
On December 1, the navy chief, Admiral Sunil Lanba, said: 'We have floated an RFI (request for information) and we have gotten responses from five OEMs. They are being examined.'
On July 30, the defence ministry had promulgated the 'implementation guidelines' for choosing an SP in the helicopter category, clearing the way for this procurement.
The basic SP policy framework is part of the Defence Procurement Procedure of 2016 (DPP-2016).
However, equipment-specific selection criteria need to be separately drawn up for each of the four weapon categories the SP policy covers -- fighter aircraft, helicopters, submarines and armoured vehicles.
The guidelines for fighters, submarines and armoured vehicle categories are still awaited.
In another procurement that the navy chief had identified as 'the most important helicopter for us', the DAC cleared the purchase of 24 naval multi-role helicopters, which operate from the decks of capital warships, providing early warning and locating and destroying enemy submarines.
The navy's NMRH fleet currently consists of less than a dozen vintage Seaking helicopters, which are increasingly difficult to maintain.sp;
In a badly-needed fillip to army firepower, the DAC approved the manufacture of 150 indigenously designed and developed advanced towed artillery gun systems at an approximate cost of Rs 33.65 billion.
These guns, which the ministry terms 'the mainstay of artillery in the near future', are being procured under the 'Make -- Indigenously Designed, Developed and Manufactured' category.
The Defence Research and Development Organisation has overseen their development and two private firms will build the guns in parallel -- the Kalyani Group and Tata Power (Strategic Engineering Division).
The plan is to eventually induct about 1,500 ATAGS. The current order is a preliminary batch, which will be used to continue gun development.
Finally, the DAC cleared the procurement of 14 vertically launched short-range missile systems, which will boost the capability of warships to shoot down and destroy incoming anti-ship missiles.