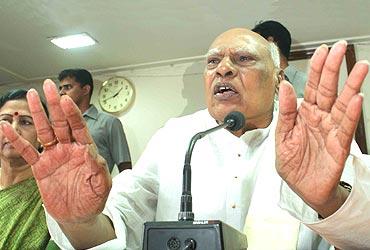 Andhra Pradesh Chief Minister K Rosaiah on Wednesday resigned ahead of the Congress Legislature Party meeting in Hyderabad.
Rosaiah said that he decided to resign because of his advancing age and the burden of work. "There are no political reasons behind my decision to quit," he said.
 
Rosaiah said that he had taken the decision to resign on Tuesday, following which the emergency meeting of Congress Legislature Party was convened on Wednesday evening.
 
Addressing his last press conference at the secretariat, Rosaiah recalled that he became the chief minister in September last year following the tragic death of YS Rajasekhar Reddy.
"I took the responsibility as chief minister on the orders of the high command," he said,
 
"I never had any group in the party," he said, adding that whoever becomes the chief minister after him will enjoy his full support.
Though the summoning of the CLP meeting at such a short notice had sparked off speculations about the possibility of a change in leadership, Rosaiah's resignation came as a surprise for many leaders in the party.
 
Union minister S Jaipal Reddy and assembly Speaker Kiran Kumar Reddy may succeed Rosaiah, according to sources. There were also indications that senior minister from Telangana J Geeta Reddy could become the deputy chief minister.
 
It is unlikely that the new leader will be chosen at the CLP meeting on Wednesday. The meeting is likely to pass a one line resolution, entrusting Congress president Sonia Gandhi with the task of choosing the next CM.
 
Rosaiah had been facing a lot of flak from within the party for his failure to provide a strong and effective leadership, after he succeeded YSR following the popular CM's death in a helicopter crash.
 
He was also facing a virulent challenge from YSR's son and member of Parliament YS Jaganmohan Reddy. Jagan had created a major political storm in the Congress by directly attacking Sonia Gandhi through his television channel Sakshi last week.
 
Sources say that easing out Rosaiah was part of a larger game-plan by the Congress top brass to completely isolate and sideline Jaganmohan Reddy.
Image: Andhra Pradesh Chief Minister K Rosaiah | Photograph: Snapsindia