Donald Trump is the "man who can lead the US to a better future", his former bitter critic and 2012 Republican nominee Mitt Romney has said, asserting that he was impressed by the President-elect's post victory speeches and selection of his team members, including Nikki Haley.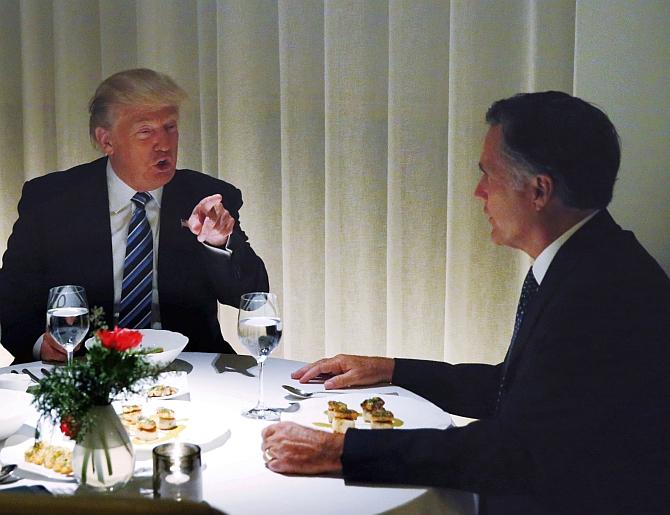 "I happen to think that America's best days are ahead of us. I think you're going to see America continue to lead the world in this century," Romney, a former Governor of Massachusetts, told reporters after having a dinner with Trump in a New York restaurant.
This was the second meeting between the two after Trump was elected as the President on November 8.
He would take the oath of office on January 20 next year.
"What I have seen through these discussions I've had with President-elect Trump, as well as what we've seen in his speech the night of his victory, as well as the people he has selected as part of his transition, all of those things combined give me increasing hope that President-elect Trump is the very man who can lead us to that better future," said Romney, who is now being considered for the position of Secretary of State.
This is quite an about turn for Romney who had openly opposed Trump during the primaries and had called him "phony".
After his impressive victory, Romney has shown interest in the top diplomatic position in the Trump Administration.
"I had a wonderful evening with President-elect Trump. We had another discussion about affairs throughout the world and these discussions I've had with him have been enlightening, and interesting, and engaging. I've enjoyed them very, very much," Romney said after the dinner.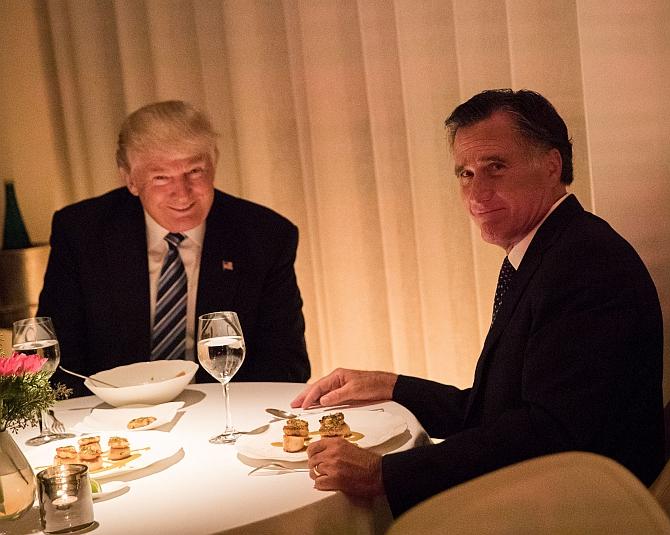 On the menu were young garlic soup with thyme and sautéed frog legs; diver scallops with caramelized cauliflower and a caper raisin emulsion.
For their main course, Trump had sirloin with a citrus glaze and carrots. Romney had lamb chops with the mushroom bolognese sauce.
Trump's White House Chief of Staff, Reince Priebus also joined them over dinner. All three had chocolate cake for dessert.
Romney said he was "very impressed" by the remarks he made on Trump's victory night.
"By the way, it's not easy winning. I know that myself. He did something I tried to do and was unsuccessful in," he said.
"The people he's selected as members of his Cabinet are solid, effective, capable people. Some of them I know very well. Nikki Haley and I go way back. She's an outspoken, strong, powerful leader. Tom Price is someone who actually came to my office before he had run for Senate and we spent time talking about healthcare. What an expert and solid thinker in that arena and others," he said.
"Jeff Sessions is someone who I knew through my campaigns, helped me very early on, he has a distinguished record in the Senate. And, of course many others, Betsy DeVos and a long list of people, very impressive individuals," Romney said.
IMAGES: US President-elect Donald Trump sits at a table for dinner with former Massachusetts Governor Mitt Romney at Jean-Georges at the Trump International Hotel & Tower in New York. Photographs: (Top) Lucas Jackson; (Lower): Drew Angerer/Getty Images