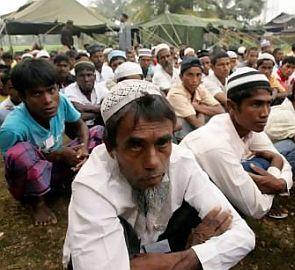 Rohingyas are illegal immigrants and stand to be deported, Union Minister Kiren Rijiju said on Tuesday, asserting that nobody should preach India on the issue as the country has absorbed the maximum number of refugees in the world.
"I want to tell the international organisations whether the Rohingyas are registered under the United Nations Human Rights Commission or not. They are illegal immigrants in India," Rijiju told reporters in New Delhi.
The minister of state for home said that since they are not legal immigrants, "they stand to be deported".
"As per law, they stand to be deported because they are illegal immigrants. We are a nation with great democratic tradition. India has absorbed maximum number of refugees in the world so nobody should give India any lessons on how to deal with refugees," he added.
Taking a strong position on the reported criticism of the government's stand on the issue, Rijiju said, "We are following the legal path then why have we been accused of being inhuman."
He said that the Centre has instructed all state governments to start the process of their deportation.
Meanwhile, two Rohingya immigrants have approached the the Supreme Court urging it to direct the central government to not deport them to Myanmmar.
The Rohingya Muslims fled to India after violence in the western Rakhine State of Myanmar.
Around 14,000 Rohingyas living in the country are registered with the United Nations High Commissioner for Refugees, while about 40,000 are said to be staying illegally.