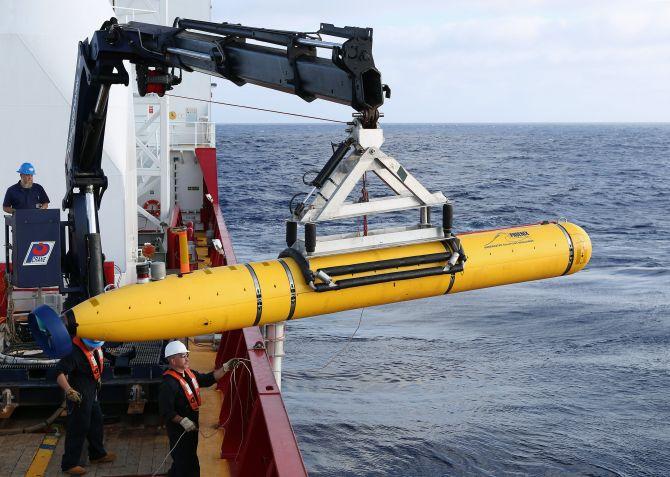 A mini-submarine deployed to find the crashed Malaysian jet has touched record depths in the Indian Ocean beyond its operating limits and embarked on a fifth mission on Friday, with still no sign of the plane's wreckage.
Autonomous underwater vehicle Bluefin 21, a United States navy probe equipped with side-scan sonar, has focused the search on an area in the southern Indian Ocean where four acoustic signals were detected that led authorities to believe that the black box of Malaysia Airlines Flight MH370 may be found there.
"Overnight Bluefin-21 AUV completed another mission in the underwater search area and has commenced mission five," the Perth-based Joint Agency Coordination Centre said on the 42nd day of the search for the plane Boeing 777-200.
"Bluefin-21 has searched approximately 110 square km to date. Data analysis from the fourth mission did not provide any contacts of interest," it said. Searchers have extended the search beyond the normal 4,500 metre depth range of the mini-submarine.
"The AUV reached a record depth of 4,695 metres during mission four. This is the first time the Bluefin-21 has descended to this depth," the US navy said.
"Diving to such depths does carry with it some residual risk to the equipment and this is being carefully monitored," a statement said. Meanwhile, Malaysia's acting transport minister Hishammuddin Hussein defended his government's handling of the operation and accused the media of focusing on the Chinese families. He said relatives of other nations represented have not had problems.
"The most difficult part of any investigation of this nature is having to deal with the families in our case," he said in Kuala Lumpur.
Hishammuddin said his country will not back down from searching for the plane, despite Australia announcing that the Bluefin-21 may cease scouring the Indian Ocean, if no trace of the aircraft is found within a week. He said this message was conveyed by Australian Prime Minister Tony Abbott to Prime Minister Najib Razak.
The minister said there was no reason to call off the search as it took two years for a remotely operated vehicle to retrieve the flight data recorders of crashed Air France flight 447 from the bottom of the Atlantic Ocean in 2011.
"I clearly agree with Abbott. But this does not mean that the search and rescue effort will be called off. We will ontinue no matter what approach we use (to locate the missing aircraft)," he said on Thursday.
Image: Crew aboard the Australian Defence Vessel Ocean Shield move the US Navy's Bluefin-21 autonomous underwater vehicle into position for deployment in the southern Indian Ocean to look for the missing Malaysia Airlines flight MH370.

Photograph: US Navy photo by Mass Communication Specialist 1st Class Peter D. Blair/Handout/Reuters