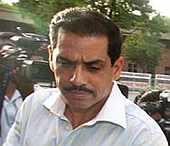 Sources say that the Congress, which has been relentlessly defending Sonia Gandhi's son-in-law, has advised him to maintain a low profile. Vicky Nanjappa reports

Congress chief Sonia Gandhi's son-in-law Robert Vadra has spurred yet another controversy with a post on Facebook, "Mango people in banana republic."

After receiving brickbats for his post, the Facebook page, on which Vadra had posted his clarifications following an expose by Arvind Kejriwal on Friday, is no longer active. It appears that the account was closed or deactivated temporarily at midnight.

Angered by Vadra's status, India Against Corruption demanded an apology from him for insulting the nation by calling it a banana republic.

Prior to closing his account Vadra's wrote on Facebook, ''Looks like some friends on my Facebook account lack a sense of humor. Whatever I post becomes a topic of debate on TV. So, I will deactivate my Facebook account now and open a new one with sensible friends.''

Was Vadra directed to deactivate his Facebook account by some members of the Congress, who have been relentlessly defending him? 

Many suggest that a quietus was being sought on the issue, but Vadra's constant updates on his social networking site was only aggravating the situation.

While there was not much of a reaction to his first update, which read, the allegations against him were "entirely baseless", "defamatory" and aimed at maligning his family, the "banana republic" status drew a lot of flak. 

He also wrote, "Thanks for the concern, I can handle all the negativity. I have lost people I loved. What can be worse than that?"

Many close to him felt that his comments would give the IAC more ground to target him.

Sources say that Vadra has been advised to maintain a low profile, as the allegations made by Kejriwal may not be entirely baseless.

Those close to him feel that he should let the issue die down instead of taking them on with sarcastic comments on the social networking site.

Ever since the exposé, Vadra's Facebook account has been monitored very closely. Also, a recent page called 'Robert Vadra corruption' was created which has 1,175 likes. Even on Twitter, he is a trending topic and has been receiving a lot of criticism.