The Jawaharlal Nehru University administration has named a road inside the campus after Hindutva ideologue V D Savarkar, a move criticised by the students' union.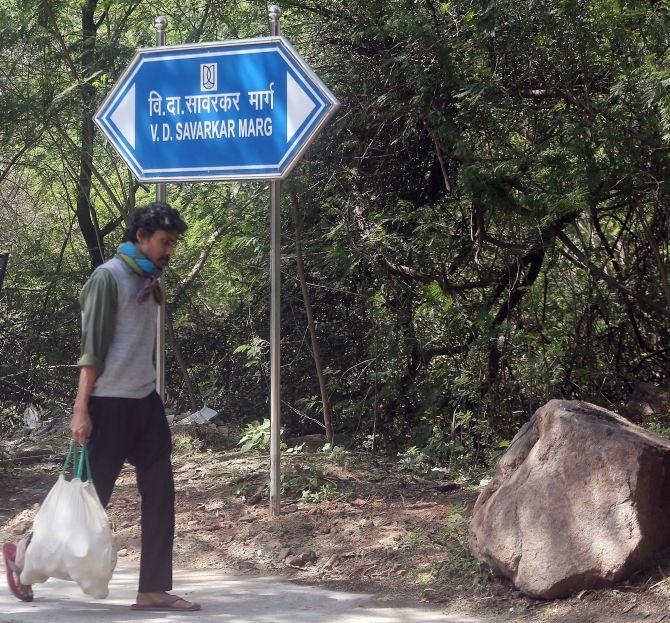 The road going towards the Indian Institute of Mass Communication, Delhi, from the university campus has been renamed, according to Saket Moon, vice president of the JNU students' union.

"Earlier, the road didn't have any name. But on Sunday night, we saw that it had been named as V D Savarkar Marg," Moon said.
Jawaharlal Nehru University Students' Union president Aishe Ghosh slammed the move, terming it a "shame" that Savarkar's name had been put in the university.

According to registrar Pramod Kumar, the decision to name the road after Savarkar was taken at the executive council meeting on November 13.
Shortly after the road was renamed, the Akhil Bharatiya Vidyarthi Parishad alleged that the JNUSU had defaced the signboard of the road.
"The JNU administration last year took the decision to name the roads inside the campus and as a result the road at the Subansir Hostel was named after V D Savarkar, but the Left-wing students defaced it by pasting a Mohammad Ali Jinnah Marg poster," president of ABVP-JNU Shivam Chaurasia alleged.
The JNUSU refuted the claims and said while the entire country and the world is fighting a medical emergency and organising its resources for the same, "it is bewildering that the JNU administration has an entirely different set of priorities".

"On March 15, the administration found an opportune time to name one of the JNU roads as VD Savarkar Marg. This was done after the Delhi government advisory asked a halt to academic activities prompting students to start leaving home," they said.

The administration knows that Savarkar and his ideology is unacceptable to JNU students, the JNUSU said.

"It is unfortunate that such a time was chosen to play divisive politics.

"The ABVP has crossed more levels of shamelessness and is trying to malign JNU further by circulating morphed images of the road in the name of Jinnah," it said.

They accused the administration of also trying to use this opportunity to further other "devious" agendas.
JNU vice-chancellor M Jagadesh Kumar said they have filed a police complaint regarding the defacement, but the police said they have not yet received it.

Last year, controversy had erupted in the Delhi University after the Akhil Bharatiya Vidyarthi Parishad-led students' union there had installed a bust of Savarkar without permission from authorities. It was removed later by the students' body.