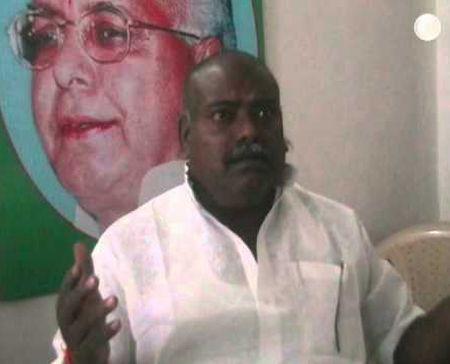 Even as rape accused Rashtriya Janata Dal MLA Raj Ballabh Yadav surrendered before the court the victim's family continues to fear the social stigma she would face. M I Khan/ Rediff.com reports from Patna.
Suspended Rashtriya Janata Dal MLA Raj Ballabh Yadav surrendered before a Bihar Sharif court where he was sent to a judicial custody of 14 days in connection with a rape case involving a minor.
"I have surrendered as I respect the judiciary," the 53-year-old legislator said.
Yadav was charged with rape of a class 10 girl on February 6. Police, which had initially refused to register a case, was forced to file it on February 9 after a chance inspection by Deputy Inspector General (central range) Shalin Kumar. An arrest order was issued on February 6 against Yadav.
Yadav had been absconding since February 9 although four of his accomplices had been arrested earlier.
The girl had told the police that she was lured by a woman, Sulekha Devi, and her daughter to the MLA's house, where she was raped. She later identified Yadav as the offender recognising him from photographs the police had shown her.
Sulekha Devi, her sister, daughter and mother have been arrested by the police.
After she was raped, the girl said the woman gave her Rs 30,000.
Meanwhile, a day ahead of the matriculation examination, uncertainty looms over whether the minor rape victim will appear for the exams.
The minor's father said that she has been isolated due to the social stigma attached to rape.
"It is difficult for her to take the examination because other students may pass vulgar comments, some may tease her and embarrass by asking questions related to the incident. In such a situation she may break down in the middle of the exams," he told Rediff.com from his village in the Nalanda district.
The girl's father added that the family is still fearful for her life.
"When we take her outside of our home to appear for examinations, will the police follow us as a part of security?" he questioned.
Taking into consideration the family's reservations, the Nalanda district administration has changed the girl's examination centre closer to her home in accordance with the family's request.
"The district administration has already made arrangements to take her to the examination centre, where special arrangements will be made for her, away from public gaze," Nalanda District Magistrate Thiyagarajan S M said.
According to district officials, she will take her examination alone in a room but not at her home.
With inputs from agencies.