Veteran journalist and Rising Kashmir editor Shujaat Bukhari and his two personal security officers were shot dead by terrorists outside the newspaper's office in the heart of Jammu and Kashmir's summer capital Srinagar on Thursday, police officials said.
Bukhari, 53, who had worked as the state correspondent for national daily The Hindu for several years, was shot dead soon after he boarded his car from his office located at Press Enclave in the heart of the city centre -- Lal Chowk.
Giving details, police said in a statement that terrorists on Thursday evening fired upon senior journalist and editor-in-chief of the daily, Rising Kashmir, Shujaat bukhari at Press Enclave.
'While Shujaat Bukhari was travelling in a car near Press Enclave, he was fired (upon) indiscriminately which resulted in instant death of Bhukari and a PSO who was with him. The other PSO who was shifted to the hospital in critical condition has succumbed to his injury,' the statement said.
'Preliminary investigation...indicates this as a terror attack. Police is investigating the case and condemn this gruesome terror act,' the statement said.
The unidentified terrorists, believed to be three in number, were waiting as it is believed that they had the knowledge about the time Bukhari was to leave office.
They fired indiscriminately on the vehicle carrying him and fled on a motorcycle along with a weapon of a PSO Abdul Hamid, who was also killed on the spot.
Bukhari is survived by his wife and one son and a daughter.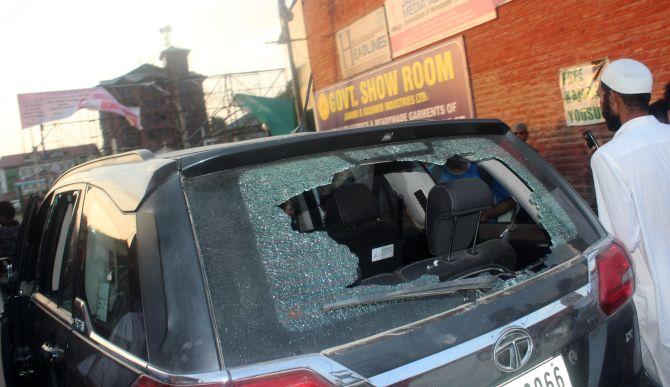 Another PSO, identified as Hameed, and a civilian were injured in the attack. The policeman later succumbed to his injuries at the hospital.
The journalist was the brother of Bashrat Ahmed Bukhari, a minister in the Mehbooba Mufti government.
An anguished Jammu and Kashmir Chief Minister Mehbooba Mufti broke down while denouncing the 'mindless' killing of Bukhari as she recalled her meeting with the renowned journalist a few days ago.
"What can I say. Only a few days ago he had come to meet me," an emotional Mufti said, struggling to hold back her tears.
Several organisations of journalists also condemned the killing.
Bukhari is the fourth journalist to be killed by terrorists in the nearly three-decade-long violence in Kashmir. In 1991, the editor of Alsafa, Mohammed Shaban Vakil, was killed by terrorists of Hizbul Muahideen.
Former BBC correspondent Yussuf Jameel escaped with injuries when a bomb exploded in his office in 1995, but ANI cameramen Mushtaq Ali lost his life in the incident.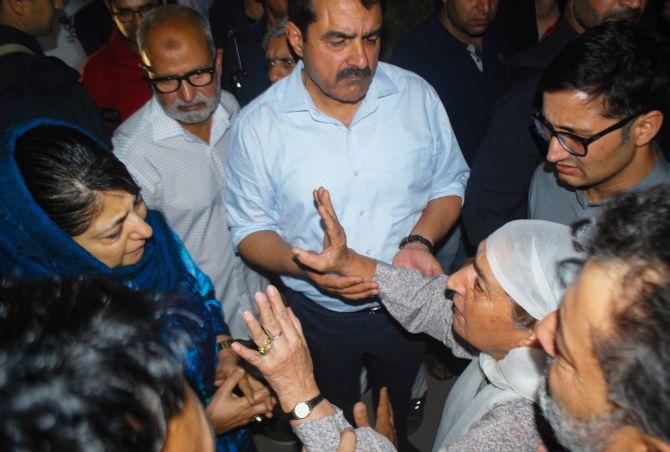 Later on January 31, 2003, Parvaz Mohammed Sultan, editor of NAFA, was shot dead by Hizbul Mujahideen at his Press Enclave office.
Hours before he was killed, Bukhari distinguishable by his over six-foot tall frame and husky voice was steadfastly defending his work on microblogging site Twitter when he was accused by some Delhi-based journalists of 'biased' coverage.
'...In #Kashmir we have done Journalism with pride and will continue to highlight what happens on ground,' he had said in the tweet.
As the news of his cold-blooded killing spread, the social media reacted with surprise and disgust about the cowardly act as politicians, journalists and common people expressed their condolences and condemnation of the barbaric act.
Expressing shock at the journalist's killing, Union Home Minister Rajnath Singh termed it an 'act of cowardice'.
'The killing of @RisingKashmir editor, Shujaat Bukhari is an act of cowardice. It is an attempt to silence the saner voices of Kashmir. He was a courageous and fearless journalist,' the home minister tweeted.
'Extremely shocked & pained at his death. My thoughts and prayers are with his bereaved family,' he said on Twitter.
Congress president Rahul Gandhi too expressed grief over the death of the journalist and said Bukhari was fearlessly fighting for peace in Jammu and Kashmir.
'I'm anguished to hear about the killing of Shujaat Bukhari, editor of @RisingKashmir. He was a brave heart who fought fearlessly for justice and peace in Jammu & Kashmir. My condolences to his family. He will be missed (sic),' Gandhi said.
Mufti said in a message that she was shocked and saddened by Bukhari's 'sudden demise'.
'The scourge of terror has reared its ugly head on the eve of Eid. I strongly condemn this act of mindless violence & pray for his soul to rest in peace. My deepest condolences to his family,' the chief minister said on Twitter.
Terrorism, she said, has hit a new low with Bukhari's killing, 'that too on the eve of Eid'.
'We must unite against forces seeking to undermine our attempts to restore peace. Justice will be done,' Mehbooba said.
Leader of Opposition in Rajya Sabha Ghulam Nabi Azad termed him a close friend and lauded his role during the floods of 2014. "In him we have lost a fearless journalist and a great social worker," he said.
Bharatiya Janata Party national general secretary Ram Madhav also termed the senior journalist's killing a cowardly act by the terrorists.
In a tweet, he said, 'Shocked to hear about d attack on d Editor-in-Chief of Rising Kashmir Shujaat Bukhari in Srinagar. Reprehensible n condemnable cowardly act of d terrorists (sic)'.
Former Jammu and Kashmir chief minister and National Conference leader Omar Abdullah said, 'Shocked beyond words. May Shujaat find place in Jannat & May his loved ones find strength at this difficult time.'
Abdullah also posted a screenshot of his last conversation with Bukhari on Twitter.
Bukhari was instrumental in organising several conferences for peace in the Kashmir Valley. He was also part of the Track II process with Pakistan.
Union Law Minister Ravi Shankar Prasad tweeted, 'Deeply saddened to learn about the dastardly killing of @RisingKashmir editor #ShujaatBukhari. Such an attempt to suppress the sane voices by terrorists will never succeed.'
Union Minister of State for Information and Broadcasting Rajyavardhan Singh Rathore called Bukhari's killing an attack on the freedom of press.
'Assassination of #ShujaatBukhari is a brutal attack on freedom of press. A cowardly and deplorable act of terror. Our fearless media is one of the greatest strength of our democracy and we are committed to provide a safe and conducive working environment to media persons,' he said on Twitter.
The Editors Guild of India tweeted, 'The Editors Guild of India unequivocally condemns the assassination of Rising Kashmir Editor Shujaat Bukhari. This is a grave attack on press freedom and democratic voices. We will be issuing a more detailed statement soon.'
Later in a statement, it said, killing of Bukhari is a 'new low in a rapidly deteriorating environment' for media persons in Jammu and Kashmir and called upon the state government to ensure their safety and bring to book the culprits.
It said an attack on a journalist challenges the very foundations of a free press and vibrant democracy and more so in a state like Jammu and Kashmir that is going through militancy.
The Guild also called upon the state and central governments to enhance security for all journalists in Jammu and Kashmir.
It said Bukhari was a voice of moderation and a courageous, big-hearted editor who mentored a large number of young journalists from Kashmir.
'Recent weeks have also seen threats of violence against many journalists in different parts of the country. The killing of Bukhari is a new low in a rapidly deteriorating environment for media practitioners in Kashmir, in particular, and in the country in general,' the Guild said in a release.
It also called upon the Centre to take note of the developments and take necessary steps to ensure a situation where the media can discharge its duties without any fear of violence.