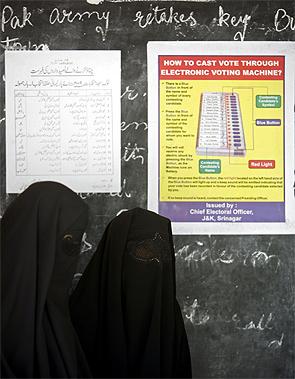 The Supreme Court's verdict -- giving the voter the right to reject a candidate through negative voting under Rule 49 O in the Conduct of Elections Rules -- is a landmark one.
Jagdeep Chhokar, a former professor of IIM Ahmedabad, is the founder member of the Association for Democratic Reforms.
In an chat with Rediff.com's Vicky Nanjappa, he expressed the belief that the apex court's verdict will encourage political parties to field better candidates in the forthcoming elections.
This is what Professor Chhokar had to say:
This verdict provides secrecy to the voter who wants to exercise his/her right under Rule 49 O, when he presses the button on the Electronic Voting Machine which says 'none of the above'. I myself have exercised this right four times. Each time I exercised this right, I found that I had to get my name registered at the polling booth.
What that effectively does is violate secrecy. The Supreme Court has made it clear that right to secrecy at the ballot is a fundamental right of every citizen.
As per the practise today, if someone wants to exercise his/her rights under 49 O, everyone present at the polling station gets to know that he or she is exercising that right.
I hope, as a result of this verdict, another aspect about the right to negative vote changes. Today, if 999 voters out of 1,000 opt for 49 O and only one person votes in favour of one candidate, then that person is declared elected. This is not done.
I personally feel that any candidate, to be elected, should get at least 51 per cent of the votes. In the event of a majority of voters using the 'none of the above' option provided by the EVM, there is a need to call for a fresh election.
More importantly, political parties should not field the same set of candidates the second time.
The Supreme Court verdict is a great step forward. I believe it will encourage political parties to put up better candidates.
Till today, the voter had a choice of either selecting or not selecting a candidate. But after today's verdict, the voter has the right to reject a candidate and also maintain his/her privacy.
Earlier, when someone exercised the 'none of the above' option, it was considered a wasted vote. From now on, it will be counted as a rejected vote and if a majority of the voters in a constituency exercise this option, then a fresh election with new candidates will be needed.
Photograph: Fayaz Kabli/Reuters