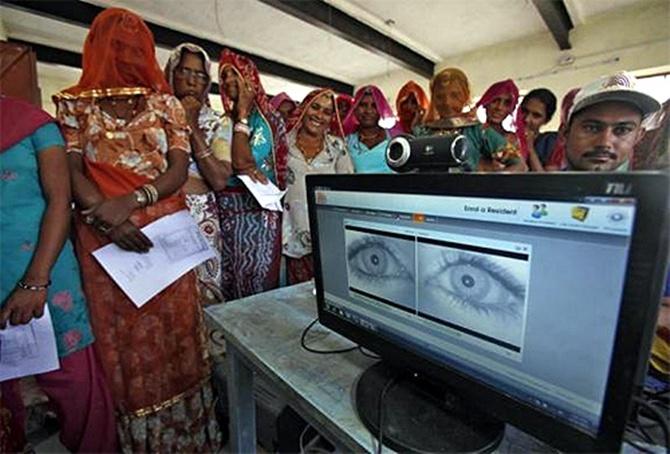 The Supreme Court on Thursday asked searching questions about contours of right to privacy in the digital age when personal information was randomly shared with all types of government and private entities.
The apex court, which has ventured to examine whether right to privacy can be held as a fundamental right, wanted to know about the tests which could be used to regulate and enforce privacy right when there could be 'legitimate or illegitimate' use of data.
The top court gave the examples of personal information like thumb impression people voluntarily gave for using mobile phones and i-Phones which, it said, in a way amounted to surrender of privacy to both private and government bodies.
"So does it amount to surrender of the constitutional or personal rights?" it asked
It said a large section of the people gave consent for data for a particular purpose, but wanted to know about the section which was unconcerned about the collection of data.
A specially constituted nine-judge bench headed by Chief Justice J S Khehar sought to know how and what should be the test if there was uninformed consent for use of data by majority of internet and mobile users.
"How could the State step in to protect or regulate data. The moment you open your i-Pad by using your thumb impression, your finger print may get into public domain and you may not know," it said.
While asking about contours of right to privacy in the modern digital age, the bench, also comprising Justices J Chelameswar, S A Bobde, R K Agrawal, Rohinton Fali Nariman, Abhay Manohar Sapre, D Y Chandrachud, Sanjay Kishan Kaul and S Abdul Nazeer, said that if it could be invoked against the 'world at large', then the State would have to make a law to safeguard it.
It said contours of this right have expanded in the age of Internet and data protection where private players were also privy to personal information of citizens.
"If there is a right to privacy which is horizontal and is actionable against the world at large and not just the State, then the immediate consequence will be an obligation on the State to enact a law to regulate private players also to ensure that this right is protected," the bench said.
It asked as to what would be remedies available to the aggrieved persons if their right to privacy was violated by 'non-state actors'.
"The State is then under an obligation to ensure that personal data does not go to private (non-State) parties," it said.
The bench also said, "The government cannot say that your right has been violated by private parties and hence, it cannot do anything".
The court, which on Wednesday observed that right to privacy could not be absolute and the State might put restrictions, questioned the extent up to which a person could claim right to privacy and decide to part or not to part with the personal information.
Giving an illustration, it said an individual could apply for a passport and refuse to give information about his father or a person could decline details about the biological parents of his adopted son.
"In the context of digital age, how far or to which extent, can a person say that he will disclose or he will not disclose...Can you have right to privacy to suppress your identity," the bench asked.
The second day of the day-long hearing saw senior advocates like Arvind Datar, Anand Grover, Sajan Poovayya and Meenakshi Arora pressing hard that right to privacy was inherently linked to fundamental right which could not be invaded and that the government had the responsibility to protect it from being violated by both the state and private entities.
Datar said in every jurisprudence, contours of right to privacy differed on a case-to-case basis and assailed the views expressed in the M P Sharma and Kharak Singh cases by the apex court that the right to privacy was not a fundamental right, saying, "Now they do not hold good."
Grover also supported the arguments in favour of privacy right and assailed the verdict in the M P Sharma case, saying that the right to privacy was not argued.
The senior lawyer said the Constitution was a living document and its interpretation must be done in accordance with passage of time and developments in the law.
"The interpretation of the Constitution must be done in light of the developing law domestically and internationally and India's obligations under various international legal instruments," he said.
"This is very important," the bench said, adding that if India was signatory of the Universal Declaration of Human Rights in 1948, then the subsequent judgement in the M P Sharma case in 1954 was "wrong at its very inception".
Another senior advocate Sajan Poovayya referred to the fact that India has more mobile and internet users than the US and the apex court should must consider right to privacy issue in a holistic manner and referred to a US judgment on privacy.
"What is your position on consent or informed consent to disseminate data or when there is no consent at all. What should be the contours of right of privacy then," the bench asked.
The lawyer then said that in Karnataka a law was brought under which the state government sought data from taxi aggregators, about the people booking taxis and from which location and to which place.
"There is no justification for the government to seek such data from taxi aggregators. What will the State do with such data about people, but then it can be misused if the state takes the data to find out that you travelled from one place to such specific place on weekends," he said.
The bench then said if a person is involved in terrorist activity, then will it not be an obligation of the State to seek and use the data about a person travelling from one place to another.
Poovayya said in the digital world, the collection and analysis of data were being done simultaneously in such a way through artificial intelligence that it was not known to everybody.
He said in today's world, digital property is as important as physical property and that's why the need for right to privacy becomes paramount.
The arguments remained inconclusive and would resume on July 25 when Attorney General K K Venugopal would put forth the government's views.