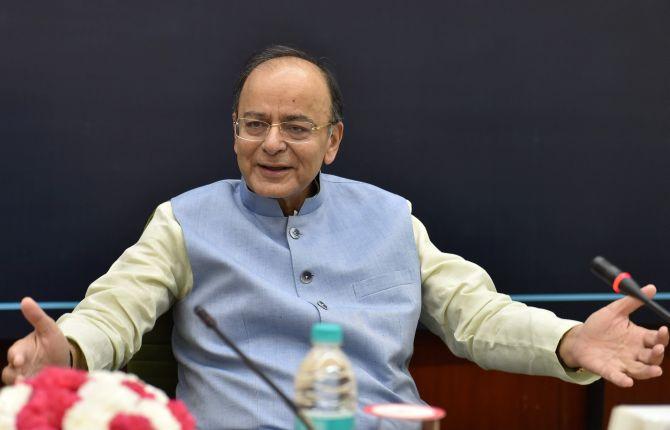 Finance Minister Arun Jaitley on Thursday blamed the previous United Progressive Alliance government for bringing the biometric ID card programme Aadhaar without a law or safeguards, because of which individual privacy being a Fundamental Right had to be settled by the Supreme Court.
The Bharatiya Janata Party-led National Democratic Alliance government, he said, while framing the law for use of the biometric identifier, ensured all safeguards and that 'privacy as a Fundamental Right is
respected'.
Welcoming the Supreme Court's ruling that individual privacy is a fundamental right as a 'positive development', he said the apex court has accepted the government's 'argument that privacy is a fundamental right, but it's not an absolute right'.
The ruling 'is positive because as the evolution of constitutional law goes on, there is always an effort to strengthen Fundamental Rights', he said.
Jaitley said the privacy matter went to the Supreme Court 'because the (previous) UPA government brought about Aadhaar without a law'.
"No safeguards were put by the UPA as to how data would be protected or the data could be used. So people challenged it saying, you are collecting the data and what will you do with it, which are the privacy clauses in it and therefore the challenge was there," he said.
When the BJP-led government last year brought the Aadhaar law, the finance minister said he was clear that 'it is too late for anybody to contend that privacy will not be a Fundamental Right'.
And so special provisions with regard to privacy and punishment in case of violations were put in.
Jaitley said he had while replying to the debate on the Aadhaar bill in Parliament on March 16, 2016 stated that the law with all safeguards is being framed 'to make sure and ensure that privacy as a Fundamental Right will be respected'.
Elaborating on the restrictions to privacy, Jaitley, an eminent lawyer, said in a room an individual would have absolute right of privacy.
"But if somebody says I will spend large amounts only of cash money and nobody has a right to find this out because I have a right to privacy, that will be subjected to restrictions which will be fair, just and reasonable," he noted.
Stating that restrictions will have to be just, fair and reasonable, he said the Supreme Court has also stated that restrictions can be for national security, crime detection or dissipation of social welfare benefits.
Jaitley said the restrictions would depend on 'case to case' but those will have to meet the test of being fair, just and reasonable.
"And, I am sure Aadhaar legislation restrictions are fair, just and reasonable and government is only interested in those fair, just and reasonable restrictions which further the object of dissipation of social welfare benefits so that they are not cornered by undeserving people and only go to deserving. To that extent I think it is a positive development," he added.
Welcoming the Supreme Court verdict, Law and IT Minister Ravi Shankar Prasad said the right to privacy should be subject to 'reasonable restrictions'.
Prasad said much before the nine-judge bench was constituted in the apex court to decide on the issue of privacy, the Modi government had told Parliament that privacy is a Fundamental Right.
"We welcome the Supreme Court judgment that privacy should be a fundamental right... The government has been consistently of the view, particularly with regard to Aadhaar, that right to privacy should be a fundamental right and it should be subject to reasonable restrictions," he told a press conference convened to respond to the landmark apex court verdict.
Prasad also quoted Jaitley's statement in Rajya Sabha in March last year where he said that privacy as a right is subject to restrictions.
The law and IT minister said even right to expression is fundamental. But no one is allowed to protest before Rashtrapati Bhawan without clothes. Even freedom of speech cannot cross the threshold set by the defamation law.
Responding to a series of questions on Aadhaar and the data linked to it, he said only a limited set of information is in public domain, the encrypted data, including biometrics is 'completely safe and secure'.
He claimed the previous UPA government had introduced Aadhaar scheme without any legislative support.
'It was in that context that the question of the UPA's Aadhaar scheme was challenged before the judiciary. The NDA government ensured that necessary legislation was approved by Parliament. Adequate safeguards were also introduced,' a statement issued by the law ministry later said.
Prasad skirted questions on reference to sexual orientation of people, need to maintain secrecy and the proposed surrogacy law which bars same sex parents and trans-genders from going for surrogacy.
He said the issues could be discussed later as the focus today was Aadhaar.
Asked why the then Attorney General Mukul Rohatgi had told the apex court that citizens don't have absolute right on their body if the government believes that right to privacy is a fundamental right, Prasad said the government and the court are on the same page on the issue.
What the A-G said was part of courtroom banter which has not been reflected in the judgment.
Congress engaging in a 'false show of jubilation': Shah
Bharatiya Janata Party chief Amit Shah said the Congress was engaging in a 'false show of jubilation and vindication' over the Supreme Court's judgment, and insisted the verdict was in line with the Modi government's vision and actions.
Referring to 'mischievous propaganda', an apparent reference to the Congress' stand that the verdict was a blow to the government, Shah said it needed to be busted as he welcomed the order, saying it strengthened Fundamental Rights and personal liberty of individuals.
'Those waxing eloquent today on privacy architecture are the ones who have ensured India does not have a robust privacy law for decades. Those commenting on Aadhaar are the same people who did not provide it a legal backing for years!' he wrote in a blog.
Attacking the Congress, Shah also referred to the part of the judgment that overruled the 1976 ADM Jabalpur case verdict of the apex court in which it had defended the then Indira Gandhi government's decision to curtail citizens' right to approach courts to challenge detentions.
These words should ring a bell to the Congress, Shah said.
Taking a swipe at a bevy of top lawyer-politicians in the Congress, he said the party's in-house eminent lawyers should brief their high command on this.
These words hold a mirror to the Congress at a time when it was engaging in a false show of jubilation and vindication, he said.
It is strange that those who snatched away the right to life and right to liberty of millions of Indians by imposing Emergency were standing today as guardians of our fundamental rights based on 'misinterpretation' of the judgment, the BJP chief said.
'It is equally strange that those who brought Section 66A and championed censoring on the Internet are speaking of liberties and rights,' he said.
Quoting the judgement, he said, it has held that right to privacy was not absolute and subject to various restrictions, a point also in consonance with the government's stand.
He also quoted Finance Minister Arun Jaitley's speech in Parliament in which he had said while piloting a bill that "I do accept that probably privacy is a fundamental right".
'Today's judgment is a welcome judgement as it strengths fundamental rights and personal liberty. Our government is committed to ensuring equitable social delivery, particularly to the poor in consonance with today's judgment by Hon'ble Supreme Court,' he said.
The BJP, he said, fully respected the right to privacy and expressed confidence that the government will lay down a robust privacy architecture after the Srikrishna committee, which has been formed by the government to propose a data protection bill, submits its recommendations.
IMAGE: Union Finance Minister Arun Jaitley in New Delhi on Thursday. Photograph: Shahbaz Khan/PTI Photo