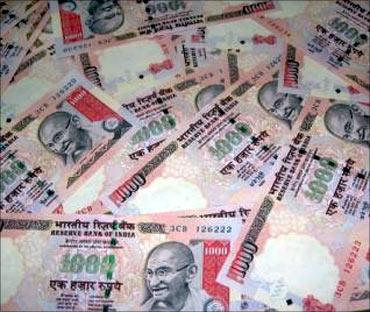 The Supreme Court on Tuesday ordered the Centre to disclose all the names of black money holders abroad to it by Wednesday and slammed the government for its reluctance on the issue.
The apex court had some strong words for the new government which had sought to modify its earlier order on disclosure of all names saying this was accepted by the then United Progressive Alliance government.
"Why are you trying to protect those who have bank accounts in foreign countries? Why are you providing a protective umbrella for all these people? The order was passed in open court in the presence of Solicitor General and the new regime can't ask modification of order. We cannot touch our order and we won't change even a word of it," a visibly annoyed Chief Justice H L Dattu, who was heading the bench, said.
Attorney General Mukul Rohatgi's fervent plea to disclose names only after conducting probes on illegality of bank accounts was outright rejected by the court which asked the government to provide all information to it and the court would direct investigation to be done by Special Investigative Team or any other agencies including CBI.
At the end of a 30-minute hearing, Attorney General said the government has received 500 names of account holders from different countries like Germany.
The CJ asked the Centre not to indulge in any kind of probe by itself and said that investigation would never complete in his lifetime if it is done by the government.
"You do not do anything. Just pass information of account holders to us and we will pass order for further probe," the bench, also comprising justices Ranjana Prakash Desai and Madan B Lokur, said.
"We can't leave the issue to the government. It will never happen during our time," it said adding, "Why are you providing protective umbrella to foreign bank account holders?"
The bench brushed aside the contentions of AG that disclosing account holders' names would violate their right to privacy of those who have legitimate accounts and the names can be revealed only after a prima facie case of tax evasion is made out.
"You do not have to take interest in people having foreign bank accounts. SIT will take care of it," the bench said setting a deadline for tomorrow to place all those names.
The court directed the Centre not to give, "one, two, or three names of account holders but the entire list."