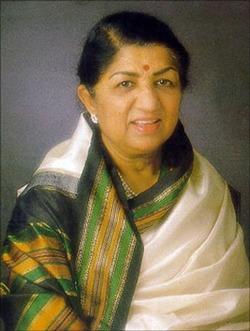 Two days after he made the controversial statement that the Nightingale of India Lata Mangeshkar should be stripped of the Bharat Ratna for expressing her support to Gujarat Chief Minister Narendra Modi, Mumbai Congress president Prof Janardhan Chandurkar on Wednesday did a U-turn.
"I did not say that," Chandurkar told this correspondent during a brief conversation. "What I said was those supporting communal parties should be stripped of national awards given to them by the government."
"I respect Lata Mangeshkar," Chandurkar added.
In an award ceremony in Pune recently, the noted singer had stated that she hoped to see the Bharatiya Janata Party leader Narendra Modi as India's next prime minister.
Chandurkar said that through his remarks he was suggesting that people who are recipients of national awards symbolise the nation and they should not praise people and parties that propagate a communal agenda.
"Such artists should work hard to strengthen India's secularism," he said. "That is my general thinking."
When asked who decides who was communal and who was secular and on what basis could one come to such a conclusion, Chandurkar excused himself by saying that he was in the midst of a public function and refused to continue the conversation.
Prof Chandurkar, an ex-legislator and a Dalit leader, was appointed as president of the Mumbai Regional Congress Committee in April this year.