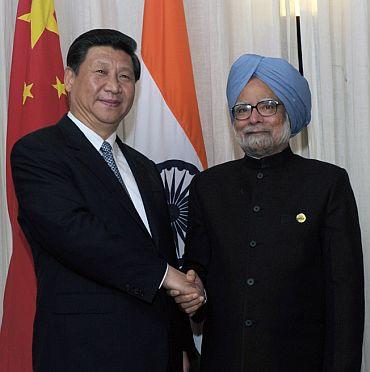 Sheela Bhatt who traveled with Prime Minister Manmohan Singh to the BRICS summit in Durban, reports on what transpired during Dr Singh's first meeting with China's new leader Xi Jinping.

"Yes! The body language was very good," a senior Indian government official said, describing Prime Minister Manmohan Singh's first meeting with Xi Jinping, China's new supreme leader, on Wednesday.
The meeting took place on the sidelines of the BRICS summit in Durban, and lasted over 45 minutes.
What was refreshening for the Indian side was that Xi -- general secretary of China's Communist party and also that country's president -- spoke freely.
Xi established eye contact with Dr Singh, and unlike his stiff-mannered predecessor Hu Jintao, he did not stick to a written script.
Hu was always formal during his many meetings with Dr Singh, but Xi was forthcoming in expressing his views.
Xi, the Indian official said, asked Dr Singh how he could further the good relations that the prime minister had with Hu and then Chinese premier Wen Jiabao.
Sources, while briefing the Indian media, said that Xi, 59, "showed respect for the elderly Dr Singh," 80.
At the meeting, "water" was the one of the main issues India raised. Both sides did not mention the thorny South China Sea issue.
Beijing had recently announced that it has started building dams for a hydroelectric project at Zhangmu in the middle reaches of the Brahmaputra (Yarlung Tsangpo in Chinese) river, which flows through China, India and Bangladesh.
The Indian side raised the construction of the new dams. The Chinese side said it had taken note of India's concerns and would look into them.
China's importance to the Xi-Dr Singh encounter was reflected in the high-profile delegation that accompanied the Chinese leader.
Former foreign minister Yang Jiechi, now a state councillor, was part of Xi's team. Two Potliburo members -- Wang Hhuning and Li Zhanshu -- and China's commerce minister were also present.
In the diplomatic world, during the first meeting with a Head of State, expectations are kept low, the Indian official said, explaining that the potential of establishing personal chemistry between the two leaders are checked by both sides in the first interaction.
After the pleasantries, not much is expected at such meetings where interpreters take away much of the time. Xi, incidentally, speaks fluent English.
From the Indian side, Dr Singh was assisted by National Security Advisor Shivshankar Menon and other foreign ministry officials.
A senior Indian diplomat said, "They (the Chinese) had given importance to the meeting. The prime minister said we are happy to meet soon after his (Xi's) election. He congratulated Xi on his election and extended an invitation to visit India at the earliest. Dr Singh said India wants to take ties with China to an even higher level. "
President Xi said he was pleased to be acquainted with Dr Singh, 'a revered statesman whose contribution to bilateral relations is greatly appreciated in China.' Xi said he looked forward to working with Dr Singh and agreed to visit India at a mutually convenient date.
There was a discussion on bilateral relations, but both leaders did not go into depth, the Indian official added.
"The entire meeting was very positive. They seem to have great regard for each other," the official said, adding, that the issue of trade imbalance also came up during the discussion.
Finance Minister P Chidambaram and Commerce Minister Anand Sharma did not attend the meeting as they had left Durban. The meeting was delayed by three hours due to the delay in other meetings.
Asked whether the meeting was "better than expected", the Indian official said, "It was a good meeting. As I said, the first meeting of this nature always has low expectations."