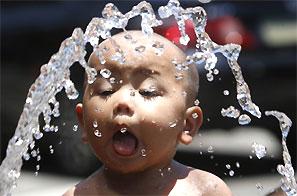 Move the slider on the map above to see the change in percentage of population using an improved drinking water source over 1990 to 2015.
According to the World Health Organization, between 1990 and 2015 globally, the access to improved drinking water sources increased from 76 per cent to 91 per cent, surpassing the Millennium Development Goal target of 88 per cent by 2015.

The (MDG 7) on drinking water was met globally in 2010. WHO/UNICEF Joint Monitoring Programme for Water Supply and Sanitation defined the improved drinking water source as that, "by nature of its construction or through active intervention, is protected from outside contamination, in particular from contamination with faecal matter".
Improved source of drinking water includes:
>> Piped water into dwelling
>> Piped water to yard/plot
>> Public tap or standpipe
>> Tubewell or borehole
>> Protected dug well
>> Protected spring
>> Rainwater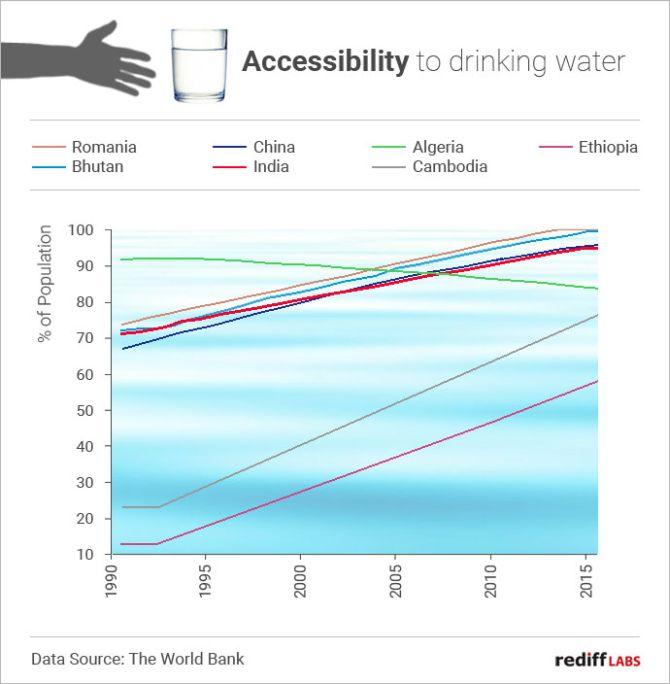 The graphic, above, shows the change in percentage of population with access to improved water sources in some countries such as Romania, Bhutan, China, India, Algeria, Cambodia and Ethiopia over the last few years.

The data, taken from The World Bank, shows that in some countries the change in percentage of population with access to improved water sources (from 1990 to 2015) is relatively high. For example, Ethiopia (+334 per cent), Cambodia (+223 per cent), Mali (+184 per cent), Guinea-Bissau (+121 per cent) and Malawi (+112 per cent).

India has shown a gradual increase in the percentage of population with access to improved water sources with an increase in change of 33 per cent (from 1990 to 2015).

However, in some countries like Algeria (-9 per cent), Haiti (-7 per cent), Zimbabwe (-3 per cent), Dominican Republic (-3 per cent) and Micronesia (-2 per cent) the change in percentage of population with access to improved water sources has dropped.

Infographic: Geeta Gandre
For more data driven journalism, check out Rediff Labs