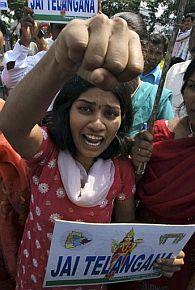 The Andhra Pradesh assembly's rejection of the Telangana bill on Thursday is the latest act in the unfolding drama over the formation of India's 29th state.

While the assembly's rejection will have no bearing on the process to carve out 10 districts from Andhra Pradesh into a new state, it nevertheless highlights the faultlines in the demands for the creation of this and other smaller states from the existing ones.
While Andhra Pradesh clearly doesn't want to let go of the districts, the region comprising Telangana is equally strident in its demand for a separate identity – regional, and not linguistic.
What does this seesaw between the two entities bode for the new state? Will law and order be a casualty? What next in the bumpy ride to create a new state?
Vicky Nanjappa, who has been reporting extensively on the Telangana state, will answer these and other questions, on the Rediff Chat at 4 pm IST on Thursday, January 30, 2014.
What next on Telangana? Only on Rediff Chat! Join in to have your questions answered.