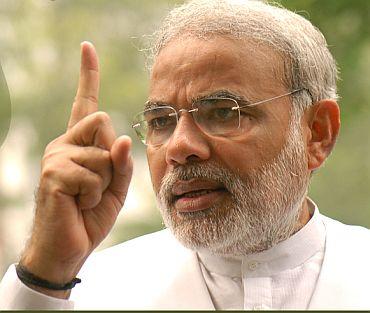 Sixty-five members of Parliament from India -- 40 from the Lok Sabha and 25 from the Rajya Sabha -- signed a petition in November and December last year asking the United States not to grant a visa to Gujarat Chief Minister Narendra Modi for his administration's acts of omission and commission during the 2002 Gujarat riots.
The petition was recirculated on Tuesday, two days after BJP president Rajnath Singh appealed to the US to reconsider its visa ban on Modi, setting off a fresh controversy.
While the CPM's Sitaram Yechury dissociated himself from the MPs' appeal to the US -- criticised by some as washing of India's dirty linen in the US, and involving a foreign power in what is primarily an internal matter of India -- Mohammed Adeeb, independent member of the Rajya Sabha, who is the man behind the petition, sees nothing wrong in it.
Adeeb says last year's petition was revived now because of the ongoing campaign in the US to secure a visa for Modi.
But the move raises some important questions, chief among them being: Should our MPs, who are sworn to uphold the nation's sovereignty, involve a third party in India's internal disputes?
Answering this and other questions is Mohammed Adeeb, the man behind the petition, on the Rediff Chat. We will announce the chat timings soon!
Note: Owing to circumstances beyond our control chat timings could change