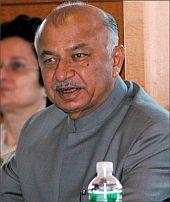 Union Power Minister Sushil Kumar Shinde said in Solapur on Sunday that if Prime Minister Manmohan Singh wanted him to be a mediator and talk to social activist Anna Hazare, he was willing.
Shinde, a former Maharashtra chief minister, knows the 73-year-old anti-corruption crusader well.
Talking to reporters in Solapur, Shinde said that government wanted to curb the corruption, but there was no quick-fix.
He refused to answer when asked whether Hazare's campaign was justifiable, but said the Prime Minister would resolve the situation soon.
Image: Union minister Sushil Kumar Shinde