November 14's full moon will be the closest for 70 years. The moon will come 221,524 miles from Earth -- almost touching distance in space terms. As well as being closer and brighter, the moon will look orange and red when it first rises. As the moon gets higher in the sky, it returns to its normal white/yellow colour.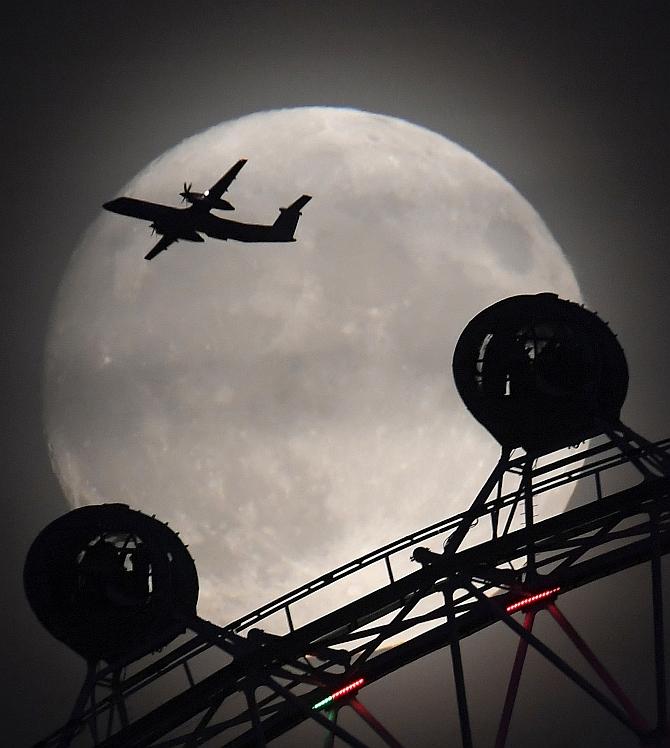 We won't see another supermoon like this until 2034. The closest full moon of the whole of the 21st century will fall on December 6, 2052.
Wondering what's a supermoon? NASA explains, "The moon's orbit around Earth is slightly elliptical so sometimes it is closer and sometimes it is farther away. When the moon is full as it makes its closest pass to Earth it is known as a supermoon. At perigree -- the point at which the moon is closest to Earth -- the moon can be as much as 14 percent closer to Earth than at apogee, when the moon is farthest from our planet. The full moon appears that much larger in diameter and because it is larger shines 30 percent more moonlight onto the Earth."
So if you spot the moon in its full glory tonight, make sure your camera lenses are with you. Shoot your best moment and mail us at citizen.reporter@rediffmail.com and we will showcase your work right here on rediff.com.
Wondering how to take a moon-shot?
Bill Ingalls, NASA's senior photographer and a fixture at NASA Headquarters, has the answer: "#1 tip: Don't make the mistake of photographing the moon by itself with no reference to anything. Instead, think of how to make the image creative -- that means tying it into some land-based object. It can be a local landmark or anything to give your photo a sense of place."
Is it hopeless to attempt a supermoon image with a smartphone camera? Ingalls says, "It is all relative. For me, it would be maddening and frustrating -- yet it may be a good challenge, actually. You are not going to get a giant moon in your shot, but you can do something more panoramic, including some foreground that's interesting. Think about being in an urban area where it's a little bit brighter."
To get the right light balance of the moon on newer iPhones and other smartphones, "Tap the screen and hold your finger on the object (in this case, the moon) to lock the focus. Then slide your finger up or down to darken or lighten the exposure."
For digital SLR photography, Ingalls uses the daylight white balance setting for capturing moonlight, since sunlight is being reflected. For those with longer lenses he advises, "Keep in mind that the moon is a moving object. It is a balancing act between trying to get the right exposure and realizing that the shutter speed typically needs to be a lot faster."
IMAGE: An aircraft flies past the London Eye wheel, and moon, a day before the "supermoon" spectacle in London, Britain, November 13. Photograph: Toby Melville/Reuters