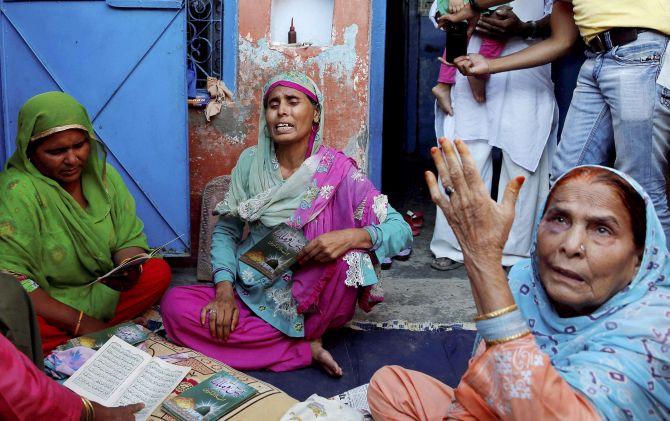 After dithering for months on the issue of recommending a Central Bureau of Investigation probe into the Dadri lynching case, the Uttar Pradesh government said if the Allahabad high court found an inquiry by the investigation agency relevant, it would honour and implement the order.
"If the court finds anything incomplete in the investigation, then the government will take immediate cognisance and an impartial inquiry will be conducted," an official spokesman said in a statement.
"Even after that, if the court finds the CBI investigation relevant, then the government will completely honour and implement it," he said. The Allahabad high court had in February sought a reply from the Centre and the Uttar Pradesh government on a petition
filed by a Bharatiya Janata Party worker from Noida who alleged that he was being "falsely implicated" in the case relating to the Dadri lynching over rumour of beef consumption and demanded that the probe in the matter be handed over to the CBI.
A division bench, comprising Justice Bala Krishna Narayana and Justice Naheed Ara Moonis, asked the Centre and the state to file their counter affidavits within four weeks and granted two weeks time thereafter to the petitioner for filing a rejoinder. It fixed April 6 as the next date of hearing in the matter.
The order was passed on the petition of BJP worker Sanjay Singh who has alleged that the state police was not investigating the matter in a fair manner and falsely implicated him in the case at the behest of the ruling Samajwadi Party.
The spokesman said that in the criminal writ petition Sanjay Singh versus Government of India and others filed before the Allahabad high court, the petitioner's statement that the investigation was done under political or administrative influence was wrong.
"In reality, the investigation is completely based on impartial evidence and facts. Charge sheet has been filed against accused against whom concrete evidence was found," he said.
Ikraman, wife of Akhlaq who was lynched on September 28 last year, had alleged that 10-15 armed people barged into their house and started beating up her husband and son Danish with an intention to kill.
Ikraman alleged that when she, her mother-in-law Asgari and daughter Shaista tried to rescue them, they too were assaulted and pushed away. The matter is pending before the fast track court in Gautam Budh Nagar and April 7 has been fixed for hearing.
The spokesman said the petitioner's statement that action was taken against him for being BJP worker was also wrong.
IMAGE: Relatives mourn Mohammad Akhlaq who was lynched by a mob in Bisara village. Photograph: PTI