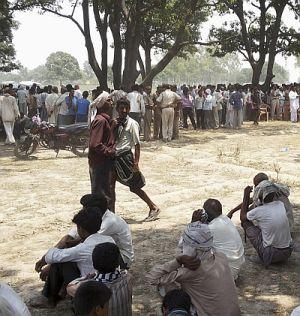 The rape of two teenaged cousins who were found dead in mysterious circumstances in Badaun seems "doubtful", indicates the CBI probe in the infamous killings in May which sparked a nationwide outrage.
After going through the DNA report from the Centre for DNA Fingerprinting and Diagnostics in Hyderabad, CBI has formed the opinion that the claim that the two girls were raped seems doubtful.
Sources in the CBI said today that the agency may drop the idea of exhuming the bodies now as the report from CDFD has given them enough forensic evidence which could help them crack the case.
They also said that the report confirms contradictions in the theory of rape.
The sources said the five accused -- Pappu, Awadhesh and Urvesh Yadav (brothers) and constables Chhatrapal Yadav and Sarvesh Yadav -- will be allowed to get bail as there is no clear evidence against them.
According to the law, an accused can get bail if CBI fails to file a charge sheet against them within 90 days that ends on August 28.
The sources said the report has been sent to the three-member medical board which has been formed here to look into the forensic and medical evidence related to the case.
The board has been asked by the agency to give its opinion this week after which CBI may announce cracking of the case.
Without revealing the findings, CBI sources said the report is a crucial evidence for the investigating team and the case may be cracked anytime now.
Image: Onlookers sit at the site where two girls were hanged from a tree at Badaun district of Uttar Pradesh. Photograph: Reuters