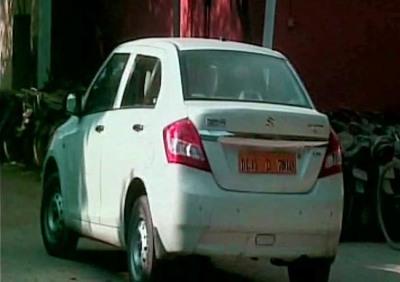 The driver working with US-based cab service provider Uber, arrested for allegedly raping a 27-year old women executive here, was today sent to three-day police custody by a Delhi court for questioning and recovery of the mobile phone used by him in the offence.
Shiv Kumar Yadav, who was arrested yesterday from Mathura in a joint operation by Delhi and Uttar Pradesh police, was produced with his face muffled before Metropolitan Magistrate Ambika Singh, who accepted the plea of investigators for his custodial investigation.
Yadav, 32, refused to undergo test identification parade, a process under the criminal law through which a victim identifies an accused, saying the girl has already seen his photograph in Uber's website and she will definitely identify him as the accused.
The accused declined to undergo the TIP even after a warning by the court that his refusal may go against him.
Soon after the court proceedings, while Yadav was being taken to the police vehicle, his face was uncovered giving a chance to photojournalists to click him.
While allowing the custodial interrogation of Yadav, whom the police has claimed to be a repeat offender, the magistrate said, "For thorough investigation and as the case property, i.e. mobile phone, is yet to be recovered, three days' police custody is granted. Let him be produced on December 11."
The proceedings saw Yadav being represented by advocate from Delhi State Legal Authority, Vinit Malhotra, who opposed the custodial interrogation, saying that the vehicle has been recovered and no purpose will be served by sending him in police custody as there were reasonable apprehension that he will be subjected to torture.
However, his request for sending the accused to judicial custody was rejected and the court allowed the plea of police that accused was required to be taken to the places associated with the offence.
Yadav, who was driving the cab, allegedly raped the woman on Friday night when the victim, who works for a finance company in Gurgaon, was headed back to her home in north Delhi's Inderlok area.
Delhi Police said it may file an FIR against Uber as investigations so far have indicated "criminal negligence" and "abetment" to the crime on part of the company whose General Manager was grilled by the police today.
Uber's General Manager (Marketing) Gagan Bhatia who claims to be the in-charge of the company's India operations, during his daylong questioning has not been able to provide much information to the police regarding the company's operations and its policies.
"We are seeing whether a separate FIR has to be filed or it would be merged in the same FIR and under what sections we have to file it," said a senior police official.
The shocking incident, which took place days ahead of the second anniversary of the December 16 gangrape, has brought back memories of the horrific crime.
"It has been six months since this government came to power but nothing has changed. They used to blame the Centre when UPA was in power and they are now themselves skirting responsibility," said an Aam Aadmi Party worker who protested outside the home minister's residence.
A group of AAP workers also staged a protest outside Lt Governor's office.
AAP vowed to raise the issue in Parliament and asked as to what steps the Government had taken to ensure security of women. "AAP will raise the Uber rape issue in Parliament also," tweeted AAP leader Ashutosh.
A group of National Students' Union of India workers also staged a demonstration outside the Home Minister's residence demanding strict punishment for the driver.
They also attacked the government saying nothing has happened 'on ground' regarding women safety, as promised by the BJP during the election campaign.
Congress MP Kumari Selja said the laws exist, but it is the duty of the government to enforce them.
"He (the driver) has a history of crime. This also shows that our law has some anomalies which is why such people commit crime even after being jailed. It is important to enforce the law properly. I don't think under the new government anything has been happening on the ground (on women safety)," Selja said outside Parliament.
Union Minister Uma Bharti said it was important to change the attitude of the society towards women.
"Even after the Nirbhaya case, if such cases continue to happen then this shows that a speedy trial is required because Nirbhaya case took a long time to reach its end. Second, people should come out in support of women in such cases.
The Uttar Pradesh police on Monday said that verification of all taxi drivers and tenants would be done in a month.
Inspector General of Police (law and order) A Satish Ganesh told reporters here that the verification drive would be completed in a month.
Meanwhile, the Centre is contemplating to ban the cab services of Uber across India after a driver engaged by the company allegedly raped a girl in Delhi.
The Home Ministry is planning to ask all state governments and administration of nine union territories, where Uber runs its cab services, to put a ban on it, official sources said today.
Uber cab services are available in Bangalore, Mumbai, Hyderabad, Chennai, Jaipur, Ahmedabad, Chandigarh, Kolkata and Pune.
The central government is also likely to ask all state governments and UT administrations to find out whether similar app-based taxi service is running in their jurisdiction contrary to the existing rules and regulations, the sources said.
Home Minister Rajnath Singh is expected to make a statement to this effect in Rajya Sabha tomorrow where he may mention about the steps to be taken for regulating the app- based cab services.