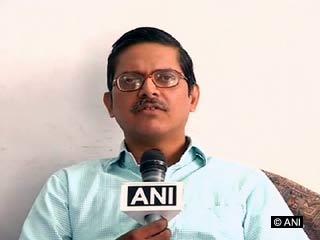 Senior IPS officer Amitabh Thakur, who has accused Samajwadi Party chief Mulayam Sigh Yadav of threatening him with dire consequences, is suddenly at the receiving end, with the Lucknow police registering a case of "rape" against him.
Significantly, Thakur's wife Nutan Thakur, an RTI activist has also been booked as an accomplice in the case.
Even more interestingly, while the cops have yet to take cognisance of the IPS officer's written complaint, the self proclaimed "rape" victim's complaint was instantly registered as FIR.
"You can yourself make out the backing that this woman enjoys; also you must note how speedily she arrived all the way from Ghaziabad and how her FIR was lodged within hours of my complaint against the Samajwadi Party president," Thakur told this scribe.
Terming the whose affair as an "afterthought", he said, "as a matter of fact two such complaints were made against me way back in January , barely a month after my RTI activist wife Nutan Thakur made a complaint to state Lok Ayukta against alleged misdeeds of UP mining minister Gayatri Prajapati."
"Both the complaints were drafted in almost the same language, following which I myself made a representation to then director general of police Arun Kumar Gupta, urging him to order a probe into the charges levelled against me. I also requested him to get my medical examination done together with that of the woman accusing me of rape. However, no action was initiated on the complaint of the two women," Thakur said.
He further pointed out that even as one of the two complaints later went to state Women's Commission but failed to make any mention of the date of the alleged rape, in a parallel petition before the high court she stated that the 'rape' was committed on December 31, last year.
"Now suddenly out of the blue she emerges again with another complaint which is promptly given the shape of FIR no sooner than I raise this issue against Mulayam Singh Yadav," the IPS officer said.
In her complaint, the woman claims that she had met Nutan Thakur, who asked her to come over to her Gomti Nagar residence for assistance to get a job in the state government.
"It was at their residence that her husband Amitabh Thakur raped me," the woman has alleged.