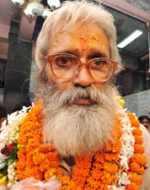 Indu Bhusan, the son of slain Ranvir Sena chief Brahmeshwar Singh, nicknamed Mukhiya, accused two legislators of Bihar's ruling Janata Dal-United as main conspirators behind the killing of his father on June 1.

Singh also alleged that the Bihar government led by Nitish Kumar is doing everything in its power to protect two legislators and delay the investigation in the case.

"JD-U legislator Sunil Pandey was behind the conspiracy to kill my father and his brother Hulas Pandey was also involved," said Singh, who is the president of Akhil Bharatiya Rashtrawadi Kisan Sanghathan, a front organisation of the Ranvir Sena.

Singh told rediff.com over the telephone on Monday that the police investigation into the case was deliberately diverted to save the legislators.

"We are disappointed in Bihar police chief Abhyanand, who assured us that a probe would be ordered into the matter and the main culprits would be arrested. But nothing has happened till date," Singh said.

Sunil and Hulas have a criminal background and once used to be supporters of the Ranvir Sena, a police officer said.

Sunil said that he will file defamation case against Singh for falsely accusing him.

Mukhiya was shot dead by unidentified criminals in Ara district headquarters of Bhojpur. This ignited widespread violence in the state.

The Ranvir Sena, a private militia allegedly responsible for the killing of more than 250 people over the years in Bihar's dreaded caste wars, enjoyed overwhelming support among the Bhumihar community.
Image: Ranvir Sena chief Brahmeshwar Singh