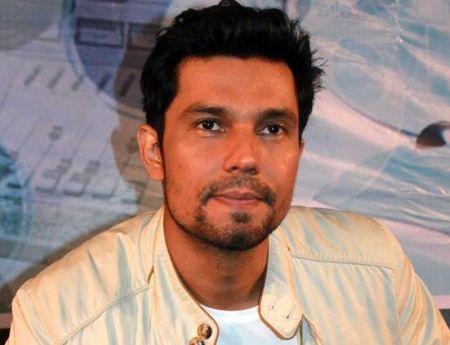 'It's absolutely a crime.'
'You cannot threaten a woman on social media or anywhere else.'
Actor Randeep Hooda drew sharp criticism for cheering along as retired cricketer Virender Sehwag trolled Delhi University student Gurmehar Kaur on Twitter.
The incident unravelled when Gurmehar Kaur, a 20-year-old DU student who protested against the violence on the DU campus on social media, was subjected to massive trolling after users discovered a video Kaur had posted asking for peace.
In her video, Kaur, the daughter of Captain Mandeep Singh who was slain in an encounter with terrorists after the Kargil war in August 1999, held up a written message which read, 'Pakistan did not kill my dad, war killed him.'
Soon after, Sehwag, the retired cricketer, posted a picture of himself holding a paper on which was photoshopped the following words: 'I didn't score two triple centuries, my bat did.'
The former batsman's tweet earned him a laugh from Hooda, which many perceived as bullying the student.
At an event on Wednesday, March 8, the actor spoke at length about the controversy related to his tweet about Gurmehar Kaur.
Rediff.com contributor Rajul Hedge listened in.
"I didn't know who this girl was. I saw Virender Sehwag's tweet and I often laugh at his jokes; he makes all sorts of jokes. I didn't know what the connotation of the joke was," Hooda claimed.
"Soon, I started receiving messages to which I responded that we shouldn't politicise the poor girl's point of view," Hooda said.
"However, suddenly I was being called a misogynist and a sexist for saying 'poor' and 'girl.' If it was a boy I would have said the same thing," Hooda added.
"I categorically said that violence is wrong, peace must prevail. People were coming up with things like despite being a girl, she is thinking about it. Let me clarify that I wasn't aware of it then and when I did become aware, I issued a statement and it was not directed at her at all," Hooda claimed.
Violence against women is wrong and heinous, the actor declared, and that the perpetrators should be brought to justice.
Hooda spoke of how he has been targeted when he posted his opinions on social media. "When I spoke of Gurgaon being renamed as Gurugram," the Haryana native recalled, "I was lectured on Sanskrit and sanskriti in not very polite terms."
"Similarly, I supported Sanjay Leela Bhansali when his set was recently vandalised and said that violence was not the answer. Again, I was trolled for it," Hooda said.
"Remove me and Sehwag from the situation," Hooda said. "We are not affected by the abuse hurled at us. However, my mother and sister and women in Sehwag's family were also threatened. Geeta Phogat, her sister Babita Phogat were also trolled."
"Whether it's a man or a woman, it's wrong to troll others," Hooda said. "It's absolutely a crime. You cannot threaten a woman on social media or anywhere else. It has to be addressed."
"The social media head of India (presumably the actor was referring to the India head of Twitter) should look into it as it's becoming a major issue," he added. "I have got brickbats from this side and that side. I'm inviting them to try and have a conversation with them and will try and find a solution."
Asked about him being criticised for calling Gurmehar a political pawn, the actor said, "I am against the idea of politicising anyone's opinion. I might have an agenda or may not, but don't blow it out of proportion."
"Considering the atmosphere in the country, I should have been more careful. As an actor, I have faced it (trolling) and I am sure I am going to face it again," Hooda said.
"A young person like her I am sure it would have been very traumatic. She shouldn't have gone through it."