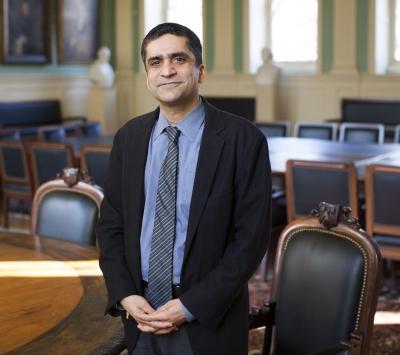 Rakesh Khurana, the Marvin Bower professor of Leadership Development at HarvardBusinessSchool, professor of sociology in the Faculty of Arts and Sciences and co-master of Cabot House, was named dean of HarvardCollege Wednesday.
Khurana succeeds Evelynn M Hammonds, the Barbara Gutmann Rosenkrantz professor of History of Science and professor of African and African American Studies, who stepped down last June after completing her five-year term.
Donald Pfister, the Asa Gray professor of Systematic Botany, will continue to serve as interim dean until July 1, when Khurana, who earned his PhD through a joint program between HBS and Harvard's Graduate School of Arts and Sciences in 1998, assumes the role.
FAS Dean Michael D. Smith, who announced the appointment in an email to the FAS community, praised Khurana as a scholar and teacher with deep experience working with undergraduates and a strong commitment to the college.
"Rakesh is a distinguished scholar of organisational behavior and leadership, an award-winning teacher, and a dynamic House master who has also deeply engaged with undergraduate issues on important committees," wrote Smith.
"He brings to the deanship an intimate understanding of the HarvardCollege experience, a profound commitment to the values of a liberal-arts education, and a warm and compassionate personality that accompanies his belief in the importance of community and an inclusive approach to decision-making," he said
"Rakesh is an ardent proponent of the values of a liberal-arts education. I am confident that he will advance undergraduate education with both a respect for enduring values and the ability to embrace change. He understands the interplay of academic, extracurricular, and residential life at Harvard and is an eloquent spokesperson for the transformative nature of the Harvard undergraduate experience," Smith said in t he e-mail.
Khurana earned his B S from CornellUniversity. He began graduate studies at Harvard in 1993, earning his Ph.D. in 1998. He was appointed to the HBS faculty in 2000 and became co-master of Cabot in 2010. He taught at Massachusetts Institute of Technology between 1998 and 2000. Prior to graduate school, he worked as a founding member of Cambridge Technology Partners.
"I'm honored to have this opportunity to serve the College and work with the faculty, students, and staff to create a transformative educational experience for our students," said Khurana. "I am convinced that, working together, we will have a significant and positive impact on the College," he added.
Smith wrote t hat as House co-master at Cabot since 2010, Khurana is attuned to the multiple transitions that students undergo during their time at Harvard, and the key role that residential life plays in their overall development.
"Rakesh's style of leadership is distinctly inclusive; he understands the importance of listening and looks forward to engaging with the faculty and the College."
Khurana and his wife, Stephanie, will remain masters of Cabot House.
Image: Rakesh Khurana
Photograph: Stephanie Mitchell/Harvard staff photographer