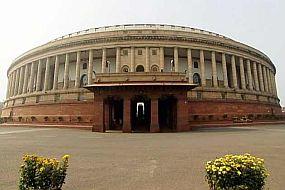 A draw of lots was held on Friday to allot Rajya Sabha members to Telangana and residual Andhra Pradesh following division of the state.
G Sudharani, C M Ramesh and G Mohan Rao -- all of the Telugu Desam Party -- and
V Hanumantha Rao, Palvai Govardhan Reddy, Ananda Bhaskar Rapolu, and KVP Ramachandra Rao, from the Congress, have been deemed to have been elected from Telangana and the rest 11 members from Andhra Pradesh.
The draw of lots took place in the presence of Rajya Sabha Chairman Hamid Ansari.
The First Schedule of the Andhra Pradesh Reorganisation Act states that 18 members of the Upper House will be divided between the residual state and Telangana based upon "drawing lots" to be organised by Chairman of the Rajya Sabha. The lottery procedure was to take place on Thursday but it did not happen.
The members who have now been assigned to Andhra Pradesh are K Chiranjeevi, Renuka Chowdary, Mohd Ali Khan, Jairam Ramesh, T Subbarami Reddy and J D Seelam, from the Congress, Y S Chowdary, T Devender Goud, Thota Seetharama Lakshmi – from the TDP -- and K Keshava Rao from the Telangana Rashtra Samithi.
The seat which has fallen vacant by the death of Janardan Reddy of Congress has also gone to Andhra Pradesh, Minister of State for Parliamentary Affairs Prakash Javadekar, who was present during the draw of lots, said.
After the creation of Telangana on June 2, Andhra Pradesh will have 11 members in the Rajya Sabha, while the new state will get a share of seven seats in the Upper House.