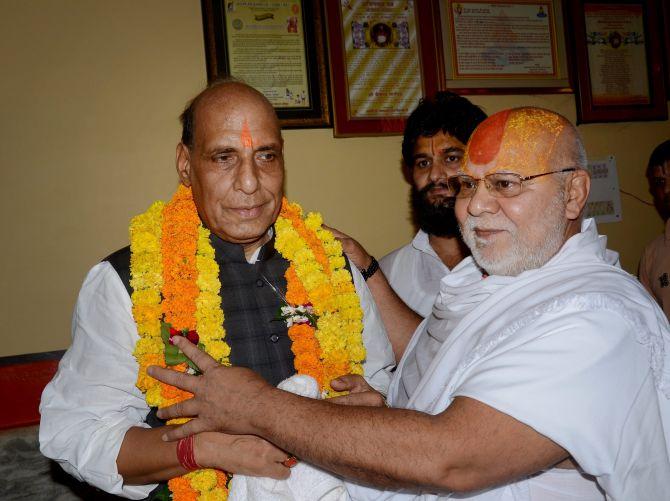 Union Home Minister Rajnath Singh virtually ruled out any enactment of law for building the much debated Ram temple in Ayodhya on Sunday.
Singh, who was in the ancient Hindu temple town of Ayodhya, about 130 km from Lucknow, told curious mediapersons that the present Bharatiya Janata Party government would prefer to wait for the verdict of the country's apex court on the issue.
"You have seen the high court judgement; it is now time to wait for the verdict of Supreme Court," he told reporters in Ayodhya where he had gone to lay the foundation stone of an eye hospital, being set up by a local Hindu religious trust.
When a scribe sought to remind him of the BJP's repeated promise to enact a law to build the Ram temple once the party came to power, Singh shot back, "Well, we still do not have a majority in the Rajya Sabha. No law can be enacted without the approval of both houses of parliament."
Another reporter asked if the government would bring legislation for the Ayodhya temple in case they eventually get majority in the Rajya Sabha. "I don't think I can give reply to a hypothetical question," the home minister replied.
Interestingly, he was confronted by the media just as he emerged out of the makeshift Ram temple where he had gone for a 'darshan'.
He also visited Ayodhya's ancient Hanuman Garhi temple after which he flew back to New Delhi.
The makeshift temple stands on the debris of the 16th century Mughal mosque (Babri Masjid) that was pulled down by violent Hindu mobs on December 6, 1992. The demolition of the mosque sparked off national wide communal frenzy that took thousands of lives. A makeshift temple was erected within hours of the demolition as an idol of Lord Ram had already existed under the dome of the mosque since 1949, with Hindus offering prayers there.
Image: Union Home Minister Rajnath Singh being welcomed by Gyan Das, mahant of Hanumangari temple in Ayodhya. Photograph: PTI