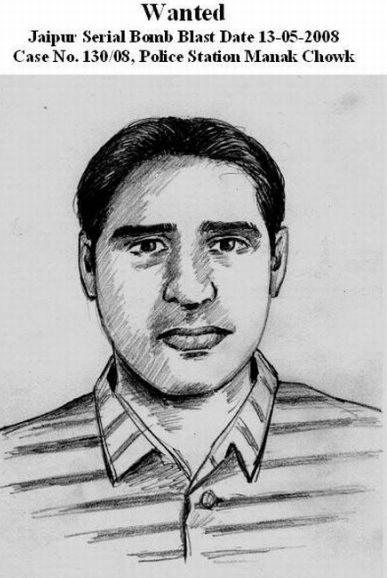 The Rajasthan police on Wednesday released the sketch of a 25-year-old man with medium height, who was suspected to be behind Tuesday's serial blasts in Jaipur.
Inspector General of Police Pankaj Singh said that the sketch was prepared on the basis of a statement given by the owner of a cycle shop, from where the suspected terrorists purchased cycles, which were used to trigger the blasts with the help of explosives.
The sketch would be displayed at all important places, Home Minister Gulab Chand Kataria said.
He said several people might have been involved in planting the bombs and the number may be more or less than nine teams.
Kataria said that two shops were identified in the walled city, from where the terrorists bought cycles used in the explosions.
A rickshaw puller identified as Vijay, injured in the blasts, was being questioned as he claimed that a lady had approached him to carry a new cycle to an area near Hawa Mahal, one of the sites of the terror attack, about 45 minutes before the blasts.
The rickshaw puller is undergoing treatment in hospital.
The Home Minister said, "As of now, we could not say which terrorist outfit was involved in the blast".

Image: Sketch of the suspect.
Photograph: PTI