The Congress has made lack of jobs, along with agrarian distress, its key election plank in the run-up to the December 7 assembly polls. Archis Mohan reports.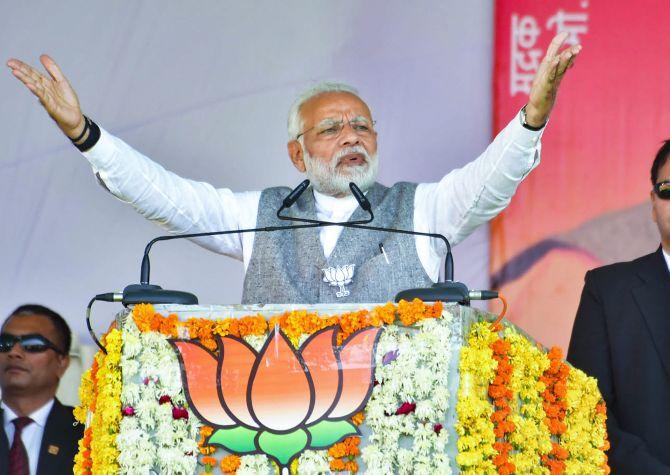 Sangram Singh, an electrician in his early-30s, returned home to Bikaner from Jaipur a year ago.
Ever since, he has managed the upkeep of the 'museum' at the Karni Mata temple, famous for its thousands of rats, and is grateful to his caste brethren, the Charans, for finding him a steady job.
"The salary isn't much, but it is regular. My family invested Rs 50,000 on me and I did a course from Industrial Training Institute (ITI) to become an electrician.
"However, there was no work in the city," said Singh, in between his eloquent recounting of Karni Mata's life to a group of devotees, who listened spellbound, and confesses to be embarrassed to now return to farming.
The youth complain of lack of jobs, even for those skilled, frequently in Rajasthan.
In 2013, the Vasundhara Raje-led Bharatiya Janata Party had promised 1.5 million jobs. In addition, the BJP in 2014 had committed to creating 20 million jobs.
Last week, four youths jumped to their deaths in front of a train in Alwar. One of them had written to a friend that he was ending his life since he would not be able to do farming, but was tired of hunting for a job.
The news made it to the front pages of local Hindi newspapers.
The Congress has made lack of jobs, along with agrarian distress, its key election plank in the run-up to the December 7 assembly polls.
The BJP has now taken to claim Mudra Bank loans helped 4.4 million youths get self-employed in the last five years.
Singh, the caretaker at the Karni Mata temple, claims the bank refused his Mudra loan application.
Literacy levels among Charans are above average. They were bards and poets to Rajput kings, and are devotees of Shakti cults.
Charans are the authorised priests at temples dedicated to women considered living goddesses when alive, including the 16th century Karni Mata.
The Charan community also runs shops outside the temple.
Kishan, 19, a first-time voter, and his friends managing one of the shops, are fans of the prime minister.
"Modi talks of vikas (development). He is the only one with a vision for the youth," said Kishan, convinced that the BJP should get five more years at the Centre.
This divide between first-time voters, and those who have already joined the job market, is evident on the outskirts of Udaipur as well. Girwa tehsil has a new skilling centre, a three-storied building run by 'V-Mart Retail Limited Skill Development Centre'.
A board announces it to be the skilling centre under the Centre's Deen Dayal Upadhyayay Grameen Kaushalya Yojana (DDU-GKY), and has a hall equipped with over three dozen computers.
A banner promises free of cost training and boarding to students, as well as uniforms, and assured placements.
Ganesh Sahu, who runs a tea stall outside the building, said the building was inaugurated a couple of months back, but has no students. Sahu is from the teli caste. "The same as the PM," he proudly said, offering tea for just Rs 2.50 per cup.
"Nobody is willing to pay more. There are no jobs and business has been poor. I am selling tea at the rate Modiji probably did several decades ago," Sahu said, tongue in cheek.
Sahu might still vote for the BJP, as would Dinesh Meena, a student in a private institute in Udaipur, who hopes to enroll in the skilling centre.
"Modiji loves the country. I also love my country. That is why I support Modiji," Meena, 21, said. He said he was keen to get out of his village, and work in the city.
According to Chief Minister Vasundhra Raje's website, the state has 120 DDU-GKY centres. However, the Centre's website lists 74.
It says the state government's Rajasthan Skill and Livelihoods Development Corporation has trained nearly 3,00,000 students.
"Demonetisation hurt economic activity. My family feels they wasted the money spent on my training," said Singh, the electrician and Charan caretaker at the Karni Mata temple.