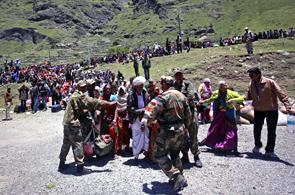 Evacuees are stranded; fresh landslides have been reported from Shirobagad, reports N Sundaresha Subramanian
A key road connection between Srinagar, the last major town on the banks of the Alaknanda, and Rudraprayag, the junction where the roads to Badrinath and Kedarnath diverge, was broken on Monday night, following heavy downpour and landslides.
The 34-km stretch has been shut for traffic, with the police announcing at 11 am that all vehicles heading towards the worst-affected pilgrim centres stop here.
Several buses and smaller vehicles carrying help and relief material were stranded in Srinagar, while vehicles carrying people evacuated from flood-hit areas could not leave Rudraprayag.
"Recovery vehicles have reached the landslide spot. Efforts are on to clear the route as soon as possible," said a police officer, adding, "But if the rains persist, it could take a couple of days for the route to open."
Bad weather has affected chopper operations in high altitude areas, according to officials.
Srinagar itself has not received much rain in the past 24 hours, though the sky remained overcast. The town has begun to face a drinking water problem, and power cuts have only added to the chaos.
With the roads getting blocked, high profile visitors and political party workers are camping here.
Former chief minister and Bharatiya Janata party leader B C Khanduri and Aam Admi Party leader Manish Sisodia are among the politicians headed towards the worst-affected areas.
Fresh landslides have also been reported from Shirobagad, 20 km from here.
Though official figures of human casualties are still hovering in the three-figure mark, locals say the number is manifold, with some estimates saying at least 30,000 people were in the 14-km stretch between Gaurikund, the base camp for Kedarnath, and the temple.
"There were large numbers of porters operating between Gaurikund and Kedarnath. Each pilgrim was being carried in a palki by four porters and a fifth one carrying luggage. Thus, if there were 2,000 pilgrims on palkis, there would have been 10,000 porters," said Nautiyal, a Garhwal native from a village that is on the road to Kedarnath from Gangotri.
The Char-dham pilgrimage starts with Yamunotri, on the western end of Uttarakhand, and moves eastwards towards Gangotri, Kedarnath before concluding at Badrinath.
"Rains had started on June 13 and continued till June 14 and 15. But we saw from our village, a heavy stream of vehicles heading towards Kedarnath. We were wondering why they were not being stopped by authorities. We thought they had better information," said Nautiyal.
Garhwalis blame the government for not maintaining enough data on anything.
"They don't have any idea about how many vehicles had gone up and how many people were there. If they want some number, they ask tourist operators. There were proposals for fitting every vehicle with global positioning system because even in normal times, many accidents take place and vehicles go missing," said a local relief worker.