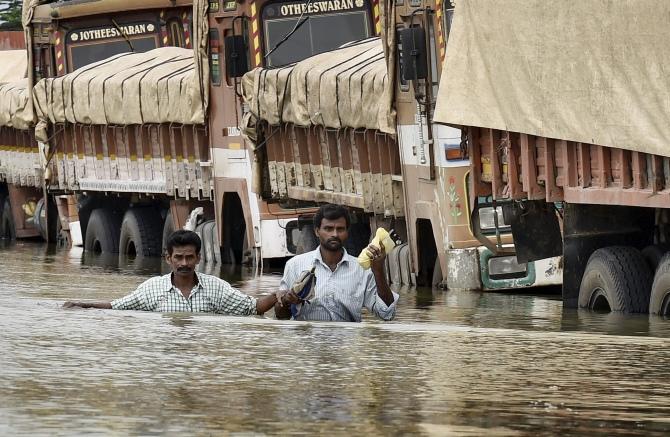 People wade through water in a flood-affected area of Mudichur in Chennai. Photographs: R Senthil Kumar/PTI Photo

Tamil Nadu was slowly limping back to normalcy on Wednesday with abatement of heavy rains in almost all districts, even as the death toll in flooding and other related incidents climbed to 87.
All schools and colleges in Chennai, Kancheepuram and Tiruvallur districts will remain closed till November 22 as a precautionary measure, an official announcement in Chennai said.
Authorities continued relief operations in flood-hit areas to provide succour to those affected. Medical camps were also being held state-wide and 55,000 people have already been screened, a senior official said.
In the worst-affected Kancheepuram district, life was inching towards a semblance of normalcy, though many areas remained waterlogged.
Chief Minister J Jayalalithaa on Wednesday held a review meeting to take stock of the situation and announced a compensation of Rs 4 lakh each to the next of kin of eight more persons killed in the flooding.
One person each drowned in Krishnagiri, Chennai and Vellore and three died due to wall collapse in Vellore, Kanchipuram and Villupuram. Two people were electrocuted in Chennai and Kanchipuram.
With rains abating in Chennai, Tiruvallur and Kanchipuram districts, water levels receded drastically from subways, arterial roads and submerged neighbourhoods, bringing a huge relief to residents.
'I have ordered officials to enumerate the damages to crops, houses, hutments and loss of cattle and boats,' the CM said in a statement.
Stating that compensation would be given to farmers after assessment, she said officials have been asked to carry out speedy disbursal of relief for damage to categories like hutments.
She detailed rescue and relief efforts by multiple state and central agencies, including the Army, National Disaster Response Force, Coast Guard, police and revenue authorities and said people were safely evacuated.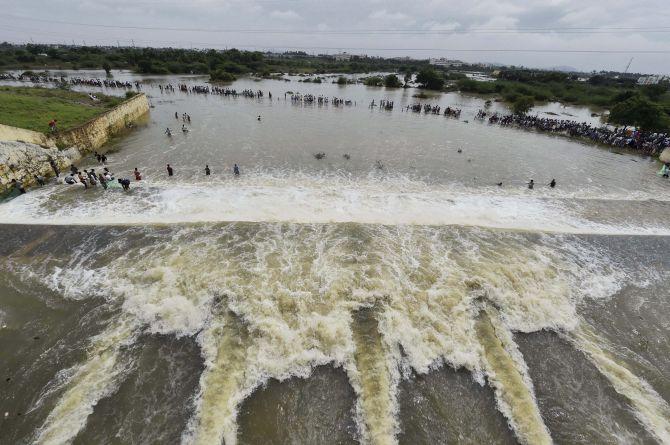 People at the Chembarambakkam Reservoir near Chennai on Wednesday. The reservoir is overflowing following heavy rainfall.

In Kanchipuram, 16,613 people were evacuated by 133 boats and 116 special camps were functioning in the district, where 34,426 have been housed.
In Tiruvallur district, 26,448 people have been safely housed in relief camps, the statement said.
Jayalalithaa said 216 medical camps (17 mobile and 199 other camps) were being held in Chennai, 106 in Kanchipuram and 89 in Tiurvallur District. "Disease prevention steps are being held in full swing," she added.
Since discharge from Poondi Reservoir in Chennai has been cut to 800 cusecs, areas inundated due to excess discharge in the city's periphery would soon see draining of water, she said.
'Barring a few streets in Velachery, Nanganallur and Madipakkam, where there is excessive stagnation of rainwater, power supply has been restored in areas in Chennai where power was switched off as a precautionary measure," the statement said.
Social Welfare Minister B Valarmathi gave away financial aid ranging between Rs 4,100 to Rs 5,200 to people in Chennai whose huts and houses were damaged in the rains.
They were also given 10 kg rice, dhothis and sarees.
The state government, meanwhile, stepped up efforts to prevent outbreak of diseases by holding medical camps, including mobile camps across the state. Over 55,000 people have been examined so far in Chennai, Kanchipuram and Tiruvallur districts.
IT majors in and around Chennai gave employees the option of flexible work shifts, including working from home due to inundation in some areas.
"Depending on the location of the employees and distance to travel, we allowed them to work from home while some others were allowed to work in other branches of our offices," a Tata Consultancy Services spokesperson said.
Meanwhile, the Met Department said that 'Tuesday's well-marked low pressure area now lies as low pressure area over West Central Bay of Bengal off Andhra Pradesh Coast'.
Rain or thundershowers would occur at many places over Tamil Nadu and coastal Andhra Pradesh over the next 24 hours, its bulletin said.
Meanwhile, 50 more Farm Fresh outlets were opened on Wednesday in Chennai, bringing to 92 such centres, to sell vegetables at reduced prices, bringing some relief to harried consumers who have seen prices spiralling.