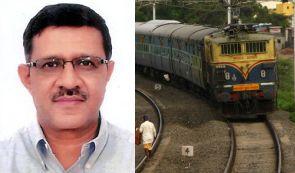 Intercepted call records have shown that the accused in the Rs.10 crore cash-for-post railway bribery scam had hatched a conspiracy and held several meetings to fulfil their objective, the Central bureau of Investigation said.
The agency, in its charge sheet, has relied upon the intercepted telephonic conversations between the accused to substantiate its allegations that a conspiracy was hatched to get the then member (staff), railway board, Mahesh Kumar appointed as member (electrical).
The CBI said Kumar wanted to get himself appointed as member (electrical) and he came in contact with MD of Bangalore-based G G Tronics India Pvt Limited Narayan Rao Manjunath who told him about businessman Sandeep Goyal.
Kumar and Manjunath were in contact with Sandeep who had assured them that he would get the work done through his contact with Singla by using his personal influence in lieu of pecuniary gratification, the agency said.
Sandeep had demanded Rs 10 crore for this purpose from Kumar through Manjunath out of which Rs five crore was to be paid before appointment and balance Rs five crore after the job was done, it said. The CBI further said that Kumar, who was holding the post of general manager, western railway, Mumbai at that time had also requested Sandeep to manage through his links to get the additional charges of general manager, western railway and S and T till he holds the post of member (staff).
Kumar had asked Manjunath to arrange Rs two crore in association with others who were dealing with the Railways for making payment to Sandeep and had assured him that he would extend official favour to them in lieu of this, it said.
The agency said that they have interception of telephonic conversations of the accused persons and Kumar was in contact with Manjunath and they along with Sandeep had a meeting on March 30, 2013 in Mumbai.
Referring to the call records, it said that in the meeting, Kumar had asked Sandeep to arrange a meeting with Singla and on April 7, 2013, Kumar, Manjunath, Sandeep and Singla met in Delhi.
In the meeting, Kumar, who had extended his official tour to April 7, had discussed with Singla about proposing his name for member (electrical), the CBI said.
The agency said that Kumar gave Singla's mobile number to Manjunath and asked him to go to Chandigarh on April 19 and "lure" Singla and Sandeep about extension of some catering work besides promise of giving "so much of revenues to them to prove that he was a very useful man for Singla-Sandeep duo."
In a meeting on April 19, Singla asked for a bribe of Rs 10 crore from Manjunath, it said. The "facts as revealed during investigation clearly establish that Kumar was to pay bribe of total Rs 10 crore to Singla through Sandeep out of which Rs two crore was to be paid immediately.
"It is also established that Kumar instructed Manjunath to arrange the initial bribe amount of Rs two crore through contribution of others vendors also who were allured to be benefited in case of appointment of Kumar at his desired post," the charge sheet said.
"Investigation has also revealed that other vendors who were involved in the arrangement of money were Sameer Sandhir, Rahul Yadav, M V Murali Krishnan through company M/s Efftronics Systems Pvt Ltd. Furthermore, Kumar prompted Manjunath to mobilize the funds from the S and T manufactures and assured that all the contributors will be taken care of after his becoming Member (electrical)," it said.
On May 2, Sandeep called up Manjunath and enquired about the money, the CBI said adding that Manjunath told him that Rs 90 lakh was available and it was decided that the money would be delivered at Chandigarh on May 3.
"On May 3, the alleged money was sent through Vivek Kumar and Dharmendra Kumar (who were initially arrested in the case but were not chargesheeted by the CBI) to deliver the same to Singla at Chandigarh by Rahul Yadav and Sandhir on the directions of Manjunath who was acting on the behest of Kumar.
"While delivering the amount to Singla, the CBI team raided the premises and recovered Rs 89,68,000," the charge sheet said.