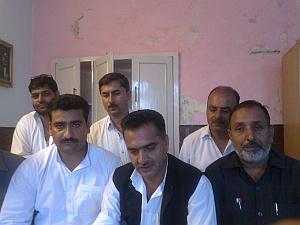 Congress general secretary Rahul Gandhi arrived in Kashmir on Thursday afternoon and proceeded straight to Leh and Kargil for laying the foundation stone of a tunnel that will link the valley with Ladakh.

Rahul will interact with the students of Kashmir University on October 5. He has been invited by leading industrialists to visit the university.

Shafiqe Mir, who led a delegation in New Delhi to apprise him of the threat perception to the lives of 36,000 sarpanches and panches by a Pakistan-based terrorist group, told rediff.com, "Rahul would meet the sarpanches and panches in the valley to know their views."
More than 1,000 Sarpanches and panches have resigned so far, and more are considering of doing the same. Rahul has asked the Union Home Ministry to ensure protection for them.
Last week, the Congress held a demonstration and clashed with the state police for inability of the state government to provide better security to the Panchayat members.
State Chief Minister Omar Abdullah denied in a tweet that there was any tension between National Conference and the Congress.