With India and China locked in a standoff on the border area abutting Bhutan, Congress Vice President Rahul Gandhi on Monday said he met the Chinese ambassador in New Delhi, but stressed that he had the right to be informed on critical issues.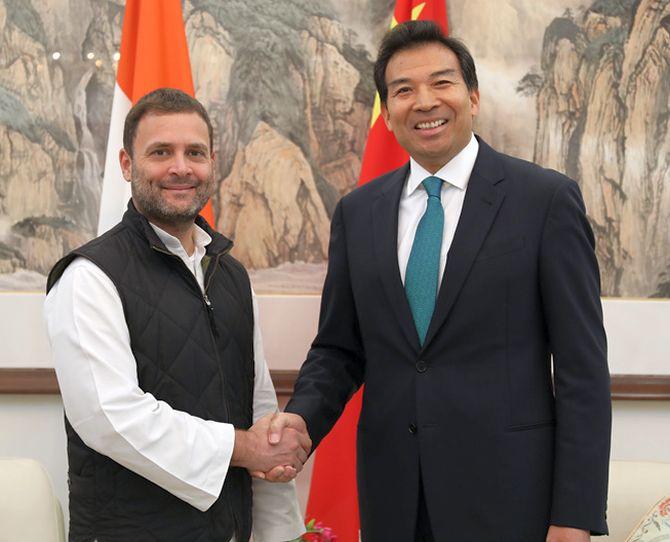 The Congress party, however, downplayed the meet, calling it a routine "courtesy call".
Party leaders also did a flip-flop on the meet with AICC communications head Randeep Surjewala first describing it as "fake news" and later confirming that they had met.
The Chinese embassy put out a release on the meeting on its website in the morning, but removed it later.
The meeting between Gandhi and Ambassador Luo Zhaohui reportedly took place at Gandhi's residence on Saturday morning.
Gandhi has also met Bhutanese Ambassador to India Vetsop Namgyel and former national security Adviser Shiv Shankar Menon.
Congress spokespersons had earlier said Gandhi had met the ambassadors and the former NSA, but not specified when or where the meetings were held.
Gandhi, while defending his meeting, took a dig at Narendra Modi saying he was not like the prime minister who was "sitting on a swing" when Chinese soldiers entered India. He also posted a picture on Twitter of Modi on a swing with Chinese President Xi Jinping during Xi's visit to Gujarat in 2014.
He questioned the government on why three of its ministers had accepted Chinese hospitality at a time of tension on the border.
"It is my job to be informed on critical issues. I met the Chinese Ambassador, Ex-NSA, Congress leaders from NE and the Bhutanese Ambassador," he said.
If the government was "so concerned" about the meeting, it should explain "why three ministers are availing Chinese hospitality while the border issue is on," Gandhi tweeted.
Next to the Modi-Xi picture, he wrote, "And for the record I am not the guy sitting on the swing while a thousand Chinese troops had physically entered India."
Gandhi's meeting with the Chinese Ambassador has raised eyebrows and is likely to generate a political debate.
Surjewala called the meet a "courtesy call" and said "envoys of neighbouring countries" met Congress president Sonia Gandhi and the vice-president from "time to time".
The envoys of G5 - a group that consists of China, Brazil, Mexico and South Africa, apart from India -- also meet the two Congress leaders, he said.
But "nobody should try to sensationalise such normal courtesy calls to term them an event like the sources of the ministry of external affairs are attempting to do," he said.
At the AICC briefing party spokesperson Manish Tewari said the Congress vice president in the course of his regular work schedule met a broad spectrum of people including diplomats.
"For all these people who have been getting very antsy about it (the meeting) since morning I have some questions too. If so much of a 'brouhaha' is being made about it, then why did the Prime Minister of India actually cross the Alster Lakes and go to the Grand Elysee hotel to meet Chinese President Xi Jinping," he asked, referring to what the government has described as a "five-minute conversation" between the two leaders in Hamburg.
Like Gandhi, Tewari asked what Union ministers Prakash Javadekar, J P Nadda and Mahesh Sharma were doing in China at a time when bilateral ties were strained because of the border standoff.
"May I ask why is an India Foundation delegation being sent to China? Let's get real about it and let's put in perspective. People do meet other people and people in public life do try and acquaint themselves with the facts," he said.
"Therefore, we would first welcome answers to all these questions from either the government or those who have raised them," he said.
Surjewala had earlier tweeted that the news about Gandhi meeting the Chinese envoy was "planted" by government agencies through "bhakt channels".
"Before MEA & IB sources plant news with 'Bhakts', they should reverify that we still have diplomatic relations with all our neighbours," he had earlier tweeted.
Surjewala said the party VP and other opposition leaders were "fully aware of national interests" and were concerned about the "grave situation" on the India-China border as well as "the situation arising in Bhutan and Sikkim".
The troop impasse is in the Doka La or Doklam area, near Sikkim.
Tension on the border built up after a Chinese army construction party attempted to erect a road in the region three weeks ago. Doka La is the Indian name for the region which Bhutan recognises as Dokalam, while China claims it as a part of its Donglang region.
IMAGE: Rahul Gandhi meets Chinese Ambassador to India Luo Zhaohui in January 2017. Photograph: Chinese embassy.