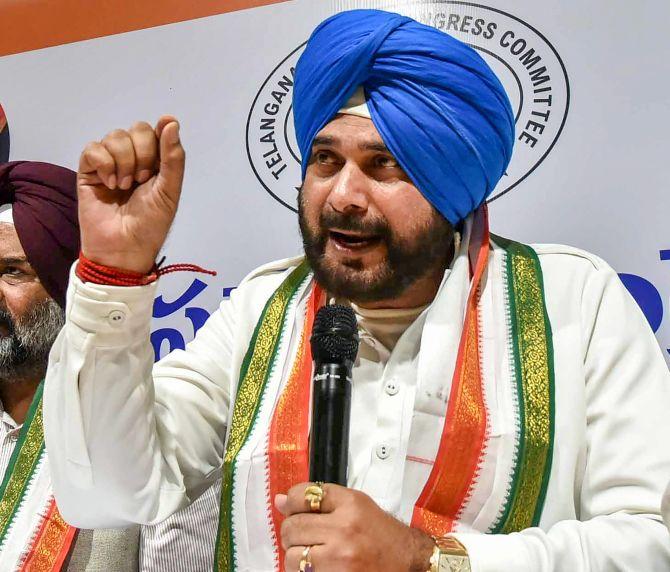 Amid the raging row over his Pakistan visit, cricketer-turned-politician Navjot Singh Sidhu said on Friday it was Congress president Rahul Gandhi who sent him there for attending the foundation laying ceremony of the Kartarpur Sahib corridor and that he was his "captain".
Sidhu's visit had riled Punjab chief minister Capt. (retd) Amarinder Singh, who said on record he tried to dissuade Sidhu, a member of his cabinet, following a grenade attack on a religious congregation in Amritsar that left three people dead, but he paid no heed. Singh had blamed Pakistan's spy agency ISI for the attack.
"Rahul Gandhi is my captain. It is he who sent me to Pakistan. Rahul Gandhi is the captain of the captain (Amarinder) also," Sidhu told a press conference here when asked about Singh's disapproval of his Pakistan trip.
Sidhu said 50-100 Congress leaders, including Shashi Tharoor, Harish Rawat and Randeep Surjewala "patted" him on his back for the visit.
The Congress leader, however, described the Punjab chief minister as a "father figure" to him.
Replying to a question about Pakistan Foreign Minister Shah Mahmood Qureshi's remark that Prime Minister Imran Khan's "googly" compelled India to send two union ministers for the Kartarpur event, Sidhu said, "How do you bowl a googly to a batsman. I have never left such a ball."
On the controversy over his photograph with Khalistani leader Gopal Singh Chawla, the Punjab minister said 10,000 people took selfies with him and he did not know the man.
"When 10,000 people are taking selfies with you, how do you know who is Chawla? How? This is absolute rubbish. Last time when I went to Pakistan I was sitting with someone who was again controversial.
"Am I supposed to see where I sit. When you are going to another country, you are looked after by them. Anybody who comes to me...I don't break hearts...come here and take a photograph," he said, adding the man identified as Chawla was seen "everywhere" during the trip, including with Union minister Harsimrat Kaur Badal.
Responding to another question about Imran Khan saying he could easily win an election in Pakistan, Sidhu said what the Pakistan premier meant was that he (Sidhu) was very popular in that country and that people there loved him.
"I have won 6 elections here. Only a popular person can win 6 elections. Ask Smriti Irani (Union minister) how many elections has she won," he said.