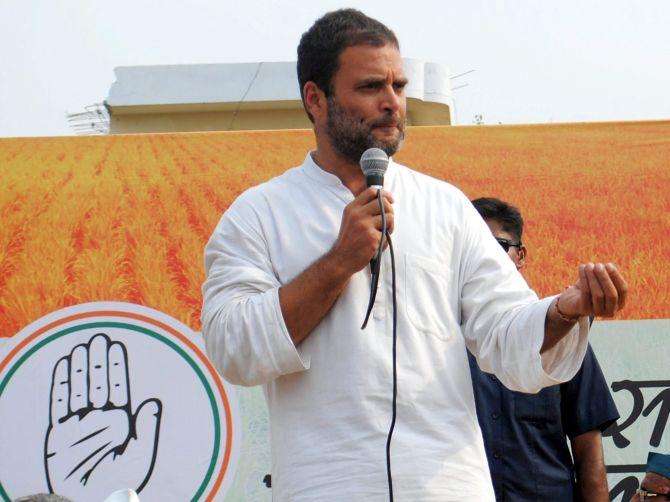 Facing flak for his 'dalali' remarks on surgical strikes, Rahul Gandhi on Friday said he has "unequivocally" supported the military action but is against the use of army in political posters and propaganda by the Bharatiya Janata Party.
"I fully support the surgical strikes and I have said so unequivocally, but I will not support using the Indian Army in political posters and propaganda all across the country," the Congress vice president said in a series of tweets.
He had on Thursday hit out at Prime Minister Narendra Modi accusing him of "hiding behind the blood of soldiers" and said that he was politically exploiting their sacrifices.
"Jinhone Hindustan ke liye surgical strike kiye hain,unke khoon ke peeche aap chhupe hain. Unki aap dalali kar rahe ho. Yeh bilkul galat hai. (You, Modi, are hiding behind the blood of soldiers in Jammu and Kashmir and those who carried out the surgical strikes for India. You are exploiting their sacrifices, which is very wrong)," Rahul had said.
His 'dalali' barb has drawn strong reaction from BJP which called it "a new low in Indian politics". Delhi Chief Minister and Aam Aadmi Party chief Arvind Kejriwal and other parties have also criticised the Congress leader's remarks.
Kejriwal, who was himself in the line of fire over his remarks on the surgical strikes, said the armed forces are to be credited for valiantly carrying out the operation and demolishing terror launch pads across the LoC and that there should not be any politics over this issue.
"Our soldiers valiantly carried out surgical strikes and demolished terror addresses. I have previously done so and want to congratulate the army once again for this. I strongly criticise Rahul Gandhi's remarks wherein he said army's sacrifices and bravery was 'khoon ki dalali'.
"I condemn the use of such words. I have told in the House as well as in a video message that right now there is tension at the border. The entire country should stand behind the army keeping aside political differences and support the PM's steps pertaining to security. There should not be any politics over this issue," Kejriwal said.
Meanwhile, Congress leader Digvijay Singh lashed out at the BJP leadership, alleging that they were touting the surgical strike on terror launchpads along the Line of Control as if they did it themselves instead of the army men.
"Modi, Amit Shah, Parrikar and BJP leaders are going around as if they have done the surgical strike! Give our army and our bravehearts the credit," Singh tweeted.
Rahul had made the remarks on Thursday while addressing a rally, marking the culmination of his month-long 'Deoria to Delhi kisan yatra' in poll-bound Uttar Pradesh.