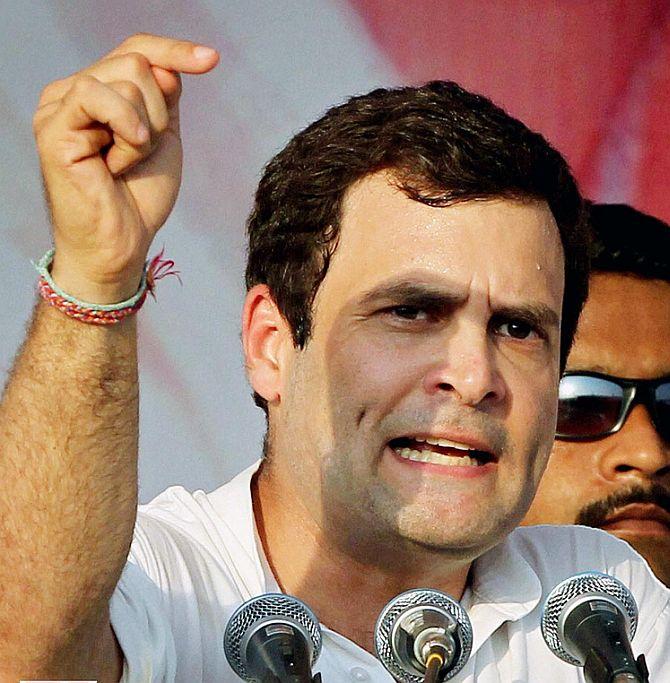 Congress vice-president Rahul Gandhi on Monday targeted the Bharatiya Janata Party and Narendra Modi alleging that they brand migrants from other states as "outsiders" as part of their divisive politics and were taking credit for achievements made by Congress over the years.
Interacting with farmers to gather inputs for Congress' Lok Sabha manifesto in Haryana's Sonepat district, about 70 km from Delhi, Rahul said the BJP believes in vesting power in one person to run the country while Congress was for giving power to the people.
"BJP believes in concentrating power. They think one or two people can run the country... they think the entire knowledge rests with only one person who can do every thing. We in Congress believe in giving power to the people," Rahul said in an apparent dig at BJP prime ministerial candidate Narendra Modi.
Raking up the migrants issue, especially of Sikh farmers in Kutch, Rahul said Congress and BJP think differently. "For us, everyone is an insider. Even an Indian living in the US is an insider. For them, a 'UP wallah' in Maharashtra is an outsider, a Sikh in Gujarat is an outsider, someone from Haryana in Punjab is an outsider," he said.
"In India you go to any place, for us (all citizens) you are an insider... Wherever they go, they make somebody an insider and someone else an outsider, this is their politics, this is the difference between them and us." He was referring to the decision of the administration in Gujarat to freeze land rights of Sikh farmers in Kutch region.
Rahul said that a delegation of Sikh farmers from Gujarat had met the party. "They were crying and they asked us that are we Indians or are we outsiders. We came from Pakistan, prepared the land and today we are told you are an outsider," he said.
However, Modi had while addressing a rally in Punjab's Jagraon on Sunday sought to assure the Sikh farmers settled in the Kutch region that none of them would have to leave their farms and claimed that a "misinformation campaign" was being spread that the BJP government was trying to evict the Sikh farmers who had been tilling the land for decades.

Rahul on Monday said his father late Rajiv Gandhi was dubbed as a "computer boy" for his push for computerisation.

"Top leaders like Atal Bihari Vajpayee and L K Advani made fun, questioning how computers will help India. Then 15 years after he (Rajiv Gandhi) left (assassinated), Vajpayee and Pramod Mahajan said they had always talked about computerisation," the Congress vice-president, clad in a white kurta pyjama, said.
"Now they have picked up (Vallabh Bhai) Patel," he said in an apparent jibe at Modi's decision to construct a gigantic status of the iron man in Gujarat.
He said "After few years, they (BJP) will claim credit for Food Security Bill, MNREGA and others....White revolution was done by Congress, BJP in Gujarat says they've done that."