Amid vociferous sloganeering from the Congress, External Affairs Minister Sushma Swaraj on Wednesday tried to put a defence of her assistance to scandal-ridden former Indian Premier League Lalit Modi.
Not one to take the punches lightly, Sushma Swaraj flung some heavy ones of her own against the Congress, namely against Sonia and Rahul.
Here are highlights from her fiery defence: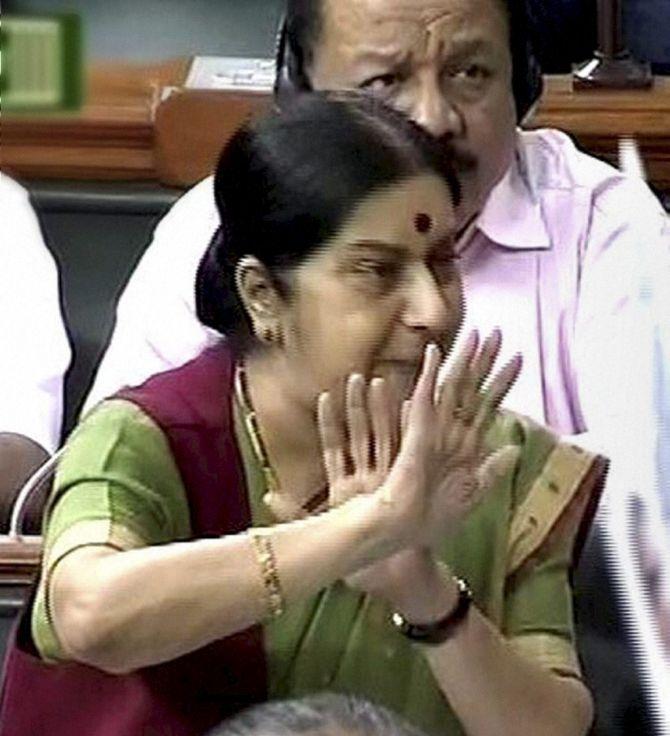 1) I have said this earlier and am repeating this once again that I have done no wrong. There is no conflict of interest on my part in Lalitgate
2) You said 'we want justice', but it is me who needs justice. My husband was not a lawyer in Lalit Modi's passport case. My daughter was a junior, in the ninth position. There were a total of 11 lawyers and my daughter appeared with a senior lawyer
3) I want to tell Opposition members what conflict of interest is. Conflict of interest is when Chidambaram's wife was made a lawyer from the Ministry Chidambaram was working for. Chidambaram admitted this in the House. And he said he didn't know about this until he was informed.
4) Rahul Gandhi said that thieves try to do things in secrecy. I didn't do anything in secrecy. If someone had done something clandestinely, it is their government which helped Quattrochi and Anderson get away
5) Rahul go on leave, read Congress's history from helping Ottavio Quattrocchi to Warren Anderson and then ask question to your mother. 'Mumma, papa ne Quattrocchi ko kyu chudaya (Mummy, why did daddy help Quattrocchi to run)'.
6) Lalit Modi got right of residency in the UK when your (Congress) government was in power. Why are they demanding answers from me? They themselves are responsible for what they are asking... Congress leadership was divided on Lalit Modi case. One half wanted probe, other half did not.
7) I'm in politics for 38 years and there has been no allegation of any wrongdoing against me