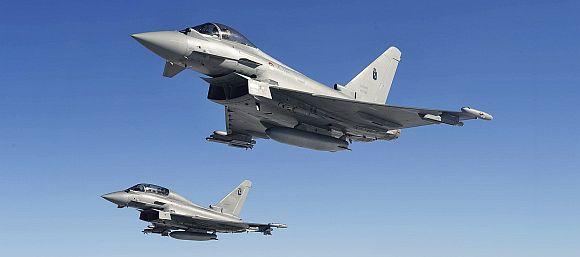 French Defence Minister Jean-Yves Le Drian will hold talks with his Indian counterpart Manohar Parrikar on Tuesday in a last-ditch effort to salvage the faltering multi-billion dollar Rafale deal as it enters into the "critical phase".
Defence sources said Drian, who will arrive in New Delhi tonight, will hold talks with Parrikar in the morning and fly out of the country soon after.
The sources remained tight-lipped about where the deal was headed but said it has entered into a "critical phase" ahead of Prime Minister Narendra Modi's proposed visit to France in April.
"This is the biggest defence deal between France and India and the effort between the two sides will be to decide on the issue at the earliest," one of the sources said.
The visit by the French Minister comes just two months after he and Parrikar met and decided to "fast-track" the contract negotiations for the nearly USD 10-billion deal for 124 Rafale fighter jets.
The sources said the French Minister will focus on firming up the deal ahead of the proposed Modi visit.
Parrikar had recently said he would not comment on the Rafale deal as the Contract Negotiations Committee was discussing it. He had asked the CNC to expedite the process.

The Indian Air Force Chief had earlier stressed on the need to have a Medium Multi-Role Combat Aircraft, for which Rafale was shortlisted. The sources said there were numerous clauses in the contract and each was being discussed and finalised by Dassault Aviation, the makers of Rafale, and the Ministry of Defence in New Delhi.
They said the Defence Ministry had clearly told Dassault that there would be no relaxation in the 'request for proposal' as was agreed by the firm when it submitted its bid.
The main issue concerns with the pricing and Dassault's reluctance to stand guarantee for the 108 fighters to be built by state-run HAL. However, confident of signing the much delayed contract with India "soon", Dassault had last week told PTI that its pricing remains the same from day one and it has not wavered from the request for proposal.
It also said an empowered team has already arrived in India and carried forward the talks as decided by the Defence Ministers of the two countries in December.
Dassault had last week signed a USD 5.9 billion (366 crore rupees) deal with Egypt for 24 Rafale jets. India had selected Rafale in 2012 but the final contract is yet to be signed. While 18 jets are to be bought off the shelf, 108 are supposed to be manufactured by HAL.